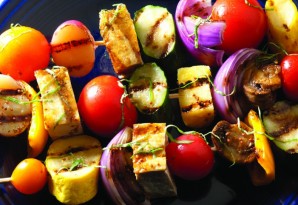 After a long and cold winter, it's finally time to kick off your boots, slip into some flip-flops and jump into summer! And, what's the best part about warmer temperatures and longer evenings with sunlit skies? It's officially BBQ weather! Before you fire up the grill and invite friends and family over for a cookout get to know some organic maple syrup-inspired recipes that will add some sweet zing to your summertime menu.
Oh, all the places maple syrup can go!
Nowadays, good BBQs are so much more than just hamburgers and hot dogs. With organic maple syrup at your fingertips, the possibilities for delicious (and unforgettable) grilled dishes are endless. Different pure maple syrup grades can go as delicate or as bold as you dare. In fact, no matter where you land on the flavor scale, you'll be sure to please all your guests – from those that crave meat to the people that can't get enough veggies! Here are just a few ideas to get the fire started:
For Carnivores:
Organic maple syrup gives grilled meat entrees some unbeatable flavor upgrades. Check out some of our most popular recipes:
Ginger Garlic Shrimp Skewers: These appetizers – and a cold drink – are a perfect combination to kick off your summer night. If you can buy shrimp locally while they are in season, you'll really create an all-star dish.
Barbequed pork ribs: Good ribs take time. After you whip up this mouth-watering marinade (maple syrup, vinegar, and soy sauce) pour it over salt- and peppered- ribs and let it sit overnight before it hits the grill. It's well worth the wait!
Grilled Steelhead Trout Fillets: There just aren't enough words to describe how good these are! As one of our most widely loved recipes, you'll be sure to hit it out of the ballpark with this grilled masterpiece.
Grilled Chicken Breast with a Sweet & Spicy Maple Glaze: This recipe keeps many of our maple-loving fans coming back to the grill long after summer has gone – even pushing aside snow to fire up the coals. This entrée is wonderful with a light summer salad or heartier mashed potatoes on cooler nights.
For Herbivores:
Meat doesn't always make the meal; summer vegetables earn their spotlight as both exceptional side dishes for meat-eaters and complete meals for vegetarian guests. Make up some Veggie Kabobs with Herb & Garlic Marinade before the party. If you can, grab some veggies from a nearby farm stand – nothing beats seasonal stuff. Veggie Kabobs also make excellent leftovers. And if your veggie-friends want a little more with their meal, consider grilling up some portabella mushrooms for a meat-free burger.
And for those who simply love dessert the most:
Conclude your cookout with a delicious sweet standing ovation. If you're looking for something on the healthier side, consider putting maple syrup-drizzled plums into a tinfoil pouch (double wrapped so the juices won't escape) before tossing onto the grill. Finish it up with some homemade Maple Whipped Cream .
If you're looking to indulge a bit more – how about ice cream sandwich cookies? It's the dessert that no one outgrows! First, make some Maple Snickerdoodles beforehand and set aside giving them plenty of time to become completely cool. Next bring out a few different flavors of ice cream and let guests put together their sandwiches – with plenty of options for toppings (strawberries, chocolate chips, hot fudge), too!
More maple recipe favorites online!
Organic maple syrup and maple sugar are must-have staples for your favorite summertime foods. Look to Coombs Family Farms' products for all your 100% real maple syrup flavors and maple products. If you have any specific questions, give us a call at 888-266-6271 or email us at info@maplesource.com. For more unique recipe ideas, visit our online kitchen and be sure to pass along your favorite meal ideas to your fellow culinary experts and grill masters!