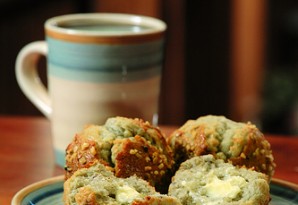 Banana Maple Walnut Muffins
Ingredients:
2 cups flour
1/2 cup Coombs Family Farms pure maple syrup
1 tsp baking powder
1 tsp baking soda
1/3 cup butter
1/2 cup buttermilk (1/4 cup if using maple sugar)
1 tsp vanilla
1 cup mashed ripe banana
1 large egg
1/2 cup chopped walnuts
Directions:
Preheat oven to 375 F.  Grease muffin tin.  Combine dry ingredients in large bowl.  Cut in butter, then add the buttermilk, vanilla, banana and egg.  Fold in walnuts.  Spoon dough into prepared muffin tins and bake for 20 to 25 minutes until golden Coombs.
Yield: makes 12 muffins.