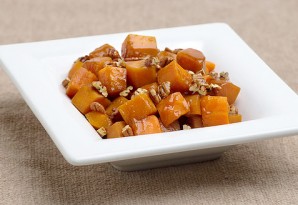 Butternut Squash Timbale
from Susan Marcia Fein Chef of Living Arts Kitchen in Austin Texas
A hearty yet light autumn dish, slightly sweet and very yummy. Great for a snack or side dish with fish or fowl.
Ingredients:
1 whole butternut squash
1/2 cup rice, soy or regular milk
3 whole eggs
1 tsp nutmeg
1 Tbsp cinnamon
1/2 tsp ginger
1/2 cup Coombs Family Farms pure maple syrup
1 Tbsp vanilla extract
Directions:
Preheat oven to 400 F. Bake squash for 1 hour or until tender when pierced through with a knife. Let cool. Cut squash in half and remove seeds. Scrape the meaty part out and put into a bowl. Mash the squash until all the big lumps are gone. Add all of the above ingredients and mash and mix until well blended. Adjust the seasoning. (All squash have different levels of sweetness and therefore seasoning should be adjusted accordingly.)
Spray a glass pan with Pam and pour the squash mixture into it.  Bake at 375 F for 30 minutes or until the center of the timbale doesn't wiggle any more. Do not bake more than 45 minutes. Serve in pan or allow to cool before unmolding.
Serves 6.