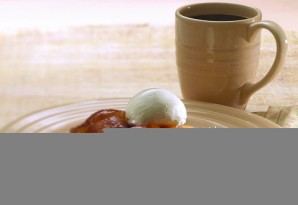 This tarte is one for the recipe collection and your holiday table. What better time of year than to enjoy these ingredients:  apples (see if you can local ones at a local farmers market or stand), butter, and always (!) maple syrup!?  Vanilla ice cream is optional, though highly recommended. Something tells me leftovers will not be an issue with this dessert.
Caramel Apple Tarte Tatin
Ingredients:
3/4 cup Coombs Family Farms pure maple syrup
1 Tbsp water
4 Tbsp butter, chilled
2 Tbsp heavy cream
6 Tbsp butter melted
1 cup sugar
4 golden delicious apples, peeled, seeded and quartered
1 box puff pastry dough, cut into an 8" circle
Vanilla ice cream
Directions:
Pre-heat oven to 350 F
To make caramel sauce:
In a small pot, combine maple syrup and water. Without stirring, heat over medium high heat until syrup boils and turns to a dark Coombs. Remove from heat and stir in butter and cream. Be careful as the syrup may be hot and may splatter with the addition of the butter and cream. Pour mixture into an 8-inch cake pan.
To make apple filling:
In a medium bowl, combine sugar, butter, and apples. Place apples in heavy baking pan, over syrup mixture. Place puff pastry circle on top of apples; prick with fork. Bake for 25 minutes or until apples are tender.  Remove from oven and carefully remove puff pastry. Set puff pastry aside.  Put baking pan (with apple mixture) over medium heat and simmer until the juices have completely evaporated. Watch constantly so it doesn't scorch.
To finish the tarte tatin:
Put puff pastry back on top of apples and flip pan onto large round platter. Remove pan.  Slice and serve warm with a scoop of vanilla ice cream.
Yield: 6-8 servings