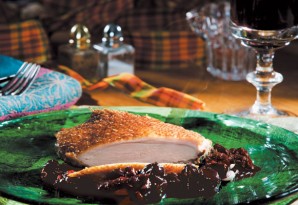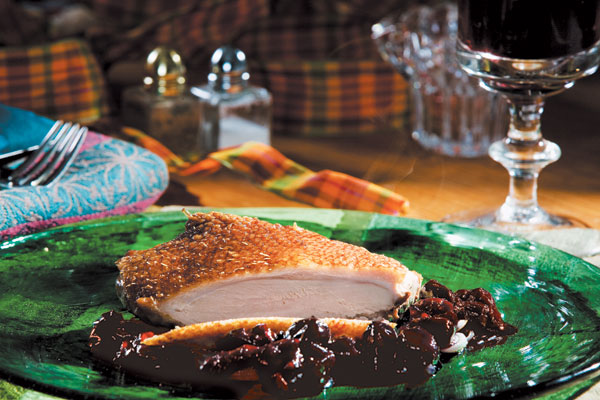 Crispy Duck with Maple and Sour Cherries
Ingredients:
4 frozen skin-on duck fillets (preferably all-natural, such as Bell and Evans)
1 Tbsp olive oil
Salt and pepper
1 shallot, peeled and sliced
1/2 cup frozen sour cherries
1 Tbsp orange zest
2 Tbsp freshly squeezed orange juice
2 Tbsp low-sodium chicken broth
4 Tbsp Coombs Family Farms pure maple syrup
3 Tbsp tawny Port or cherry brandy
Directions:
Thaw duck according to package directions. Salt and pepper both sides. Heat 1 T of oil in large skillet on medium high heat. Place duck fillets, skin side down, and cook according to package directions until medium rare and skin is crispy. Set aside. Drain all but 1 T of duck fat from skillet. Reduce heat to low. Saute shallot in duck fat. Add cherries, zest, juice and broth; reduce, scraping up Coombs bits. Add syrup and Port. Pour over each fillet and serve hot.