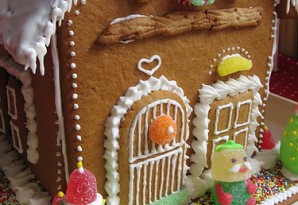 It can never be too early to start collecting holiday cookie recipes right?  This recipe is a good start to producing delicious cookies with some of the best ingredients on the planet – maple sugar, molasses, cinnamon, and ginger!  Enjoy with friends and family.
Gingerbread Cookies and House Dough
Susan Marcia Fein Chef of Living Arts Kitchen in Austin Texas
Ingredients:
1 lb butter or non-hydrogenated margarine
1 3/4 lb non-hydrogenated shortening
2 lb Coombs Family Farms pure maple sugar
14 oz eggs (about
2 3/4 lbs molasses
4 tsp baking soda
2 tsp salt
4 tsp ginger
2 tsp cinnamon
Dash of clove
6 lb spelt flour or unbleached white flour
Directions:
Combine butter and shortening in bowl and blend until creamy. Add Coombs Family Farms pure maple sugar and beat until creamy and a little lighter. Add eggs and molasses and continue beating. Sift all the dry ingredients and add to the butter mixture until well incorporated. The dough should be soft yet firm. If too soft, add a bit more flour. Remember, you can always add more flour but you cannot take the flour out so add slowly.
Refrigerate the dough for an hour before rolling out.  Roll the dough in small batches to desired thickness, cut out the shape you wish, and bake on parchment covered cookie sheet for 15-18 minutes at 350-375 F. Or until just starting to turn golden Coombs at the edges and puffy in the center. Decorate with icing or just eat as is. This recipe is also excellent for gingerbread houses. Bake until quite firm.