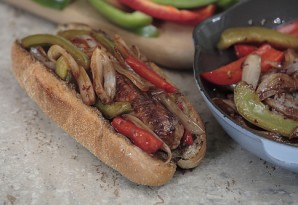 Good morning and Happy New Year!  We hope you were able to close your laptops, get out from behind your desk, and enjoy your family, friends, and the outdoors last week. Can you believe it is already 2011?  We will be sugaring before we know it!
A few people have called or written to find out when and how they can visit us this winter.  Vermont, New Hampshire and New York host their maple weekend on March 19-20.  This is when most sugarhouse are open to the public, including Bascom Family Farms. We hope to see you in Alstead, New Hampshire that weekend.
For information on maple weekends please visit the appropriate site:
New Hampshire:  http://www.nhmapleproducers.com/events.html
New York: http://www.mapleweekend.com/
Vermont:  http://vermontmaple.org/events.php
Now, to get you started with a delicious dish in 2011.  This recipe is for those of you lucky enough to live in a warm climate where grilling is still possible outdoors this time of year (we could do this in New England, but some days might require the kind of layers normally reserved for the slopes), or those who have invested in the essential indoor grilling equipment. This dish can be enhanced with a pasta dish and salad (lettuce based).
Ingredients:
1 Tbsp olive oil
1 large green pepper, chopped in 1/2 inch pieces
1 large red pepper
1 small yellow onion chopped in 1/4 inch pieces
3 Tbsp balsamic vinegar
2 Tbsp Coombs Family Farms pure maple syrup
1/2 tsp dried crushed red pepper (or more to taste)
4 pork or chicken sausages, preferably hot Italian
4 submarine or large hot dog buns
2 Tbsp butter
Directions:
Prepare grill.  Mix first seven ingredients together in large bowl to coat peppers and onions well. Grill mixture on an oiled rack above coals under just tender.
Meanwhile, prick sausages with a fork and grill on medium to low until just cooked through.
Spread butter on inside of buns and toast on grill until golden.  Insert one sausage in each roll and cover with pepper onion mixture.  Serves four.