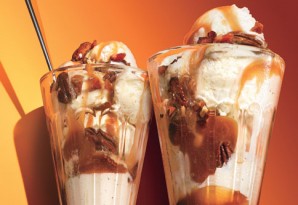 The October issue of Bon Appetit features an entire section dedicated to maple recipes. There are so many treats – Apple Cider and Maple Cream Tart w/ Maple-Cranberry Compote and Maple and Chocolate Chip Shortbread to name a couple. Maple-Pecan Sundaes with Candied Bacon seemed like the best recipe of the bunch to share. This grown-up dessert is bound to be better than any combination of sauces you can find at the supermarket.  When finished with a serving I am guessing you will begin to look around the room for a means of obtaining more.
According to The Oxford Companion to American Food and Drink, recipes featuring maple syrup include hot maple syrup poured over clean snow, drizzled over flannel cakes, in walnut and pecan pies, and as a flavoring for ice cream. All those suggestions sound good, but wait till you try this recipe!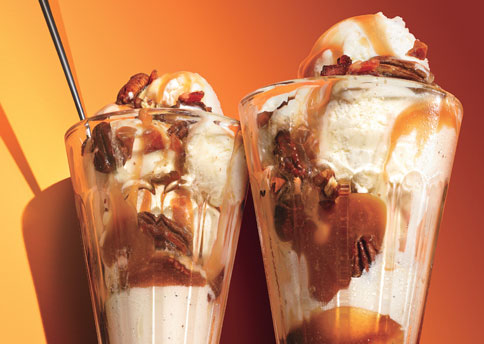 Maple-Pecan Sundaes with Candied Bacon from October, 2010 issue of Bon Appetit.
Ingredients:
4 bacon slices
2 Tbsp maple sugar, divided
3/4 cup pure maple syrup (preferably Grade B)
2 cinnamon sticks, broken in half
1 Tbsp fresh lemon juice
1 Tbsp finely chopped crystallized ginger
1/2 cup pecan halves, toasted Vanilla ice cream
Directions:
Preheat oven to 400. Line rimmed baking sheet with foil. **A more sustainable option to foil is Silpat (great for baking cookies on!). Place rack in center of foil. Lay bacon slices on rack. Sprinkle 1 Tbsp maple sugar evenly over bacon. Bake until sugar is melted, about 8 minutes. Sprinkle remaining 1 Tbsp sugar over same side of bacon. Bake until bacon is deep brown and glazed, 12 to 14 minutes longer. Remove from oven.
Preheat broiler. Broil bacon until sugar on top bubbles thickly, watching closely to prevent burning, 1 to 2 minutes. Cool bacon completely on rack. Cut into 1/4-inch dice.
Combine maple syrup and cinnamon sticks in deep medium saucepan and bring to boil over medium -high heat. Reduce heat to medium and simmer until sauce is thickened and reduced to 1/2 to 2/3 cup, about 5 minutes. Remove cinnamon sticks. Mix lemon juice and ginger into sauce. DO AHEAD: Can be made 2 hours ahead. Let stand at room temperature.
Stir pecans and bacon into maple sauce. Scoop ice cream into dessert dishes. Spoon sauce over and serve.
Yield: 6 servings.
Photograph by Dan Forbes for Bon Appetit.