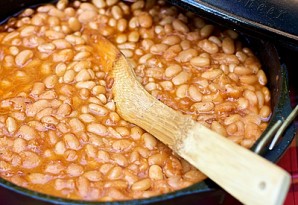 Maple Baked Beans from Kurt VanderScheer
Ingredients:
1 lbs. navy beans
1/2 lb bacon
1 medium onion diced
2 cloves of garlic minced
1/2 cup cider vinegar
2 Tbsp dijon mustard
2 Tbsp worcestershire sauce
1/3 cup maple syrup
1/4 cup brown sugar
1/2 cup ketchup
1 Tbsp hot sauce
1 tsp salt, pepper to taste
Directions:
Soak beans overnight in water enough to cover by several inches.
In a dutch oven, saute bacon, onion, and garlic until the bacon renders and the onions are translucent. Add cider vinegar and reduce for 3 minutes. Add dijon mustard, worcestershire sauce, maple syrup, brown sugar, ketchup, hot sauce and stir to combine. Drain beans, add to dutch oven with 3 cups water and stir to combine. Add salt and pepper to taste. Bake at low heat ~250F until beans are tender, ~4 hours.