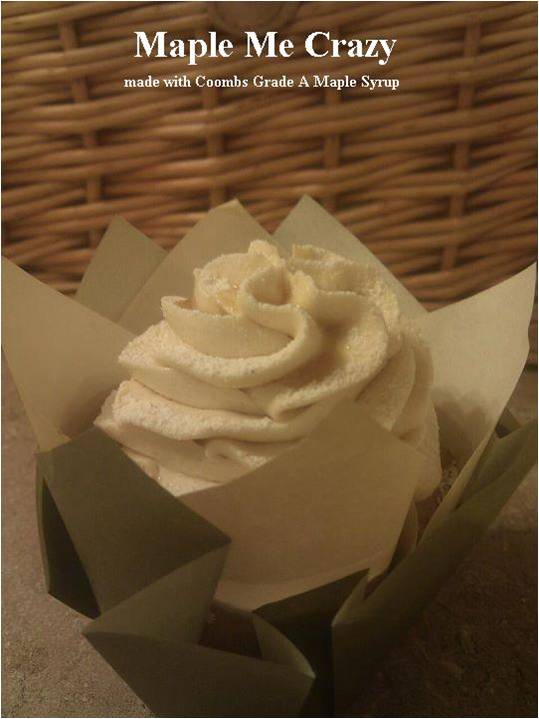 The recipe for this Maple Me Crazy cupcake is courtesy of Dana Eisenmann.
Cupcake:
1 Box Yellow Cake Mix ( Don't forget Box Tops, support your schools)
1 Stick melted salt free butter
3 Eggs
3 Tbs Maple Syrup
1 tsp cinnamon
1 cup minus 3 Tbs water
Preheat oven to 350 degrees. Line 24 muffin tins. Combine all ingredients in a mixing bowl and beat on low till well combined. Beat and additional 2 minutes on medium speed till mix is light and fluffy.
Divide batter into 24 tins and bake for 19 min. Remove from oven and cool completely.
Frosting
2 Sticks room temperature unsalted butter
4 cups powdered sugar
1/2 tsp vanilla
1/4 cup maple syrup
3 tbs whipping cream
Over medium speed beat butter till light and fluffy. Beat in powdered sugar 1 cup at a time. While mixer is running slowly poor in maple syrup. Add vanilla and beat till combined. Add the whipping cream 1 tbs at a time till you reach the desired consistency. You may need more or less cream.
Decorating
Pipe frosting on each cupcake. Once all are frosted, in a small glass bowl mix 1/4 cup powdered sugar and 1/4 tsp cinnamon together. Using a fine mesh sieve, dust the tops of the cupcakes. Then with a spoon drizzle a very small amount of the maple syrup over the top.
By: Dana Eisenmann,   December 2011