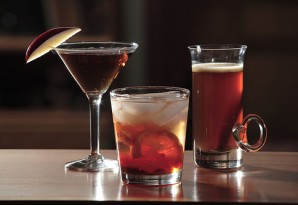 A Mojito is traditionally made of five ingredients: white rum, sugar (traditionally sugar cane juice), lime, sparkling water and mint. The original Cuban recipe uses spearmint or yerba buena, a mint variety very popular in the island. Its combination of sweetness, refreshing citrus and mint flavors are intended to complement the potent kick of the rum, and have made this clear highball a popular summer drink.
Maple Mojito
Ingredients:
1 cup 100% pure maple syrup from Coombs Family Farms
1 cup packed fresh mint leaves plus 2 mint sprigs
Fresh lime juice
Light Rum
Club Soda
Directions:
Heat syrup to a simmer in small saucepan. Remove from heat. Reserve 15 of the mint leaves. Add the remaining mint leaves to the syrup and let steep until cool, then strain.
In a cocktail shaker, muddle the 15 reserved mint leaves with 1 part lime juice and 1 part mint maple syrup. Add ice and 1 part rum. Shake well. Fill a highball glass with ice. Pour the drink into glass. Top off with Club soda. Garnish the drink with mint sprig.
Definition for "mojito" provided by Wikipedia.