This is a delicious recipe, which takes ten minutes to prep and ten minutes to cook. Perfect for a night when you are grilling for friends.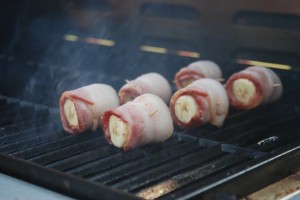 Dole Grilled Bacon Maple Banana Bites from the Dole website
Ingredients
1/4 cup maple syrup
8 slices center-cut bacon
2 large DOLE bananas
1 tsp chili powder
Preheat gas grill to medium heat. Spray grill grates with cooking spray or lightly oil. Pour maple syrup into shallow dish. Place bacon onto a microwave-safe plate lined with paper towels. Cover with another paper towel and microwave on HIGH for 1 minute or until bacon just barely begins to cook, but is still pliable and not crisp.
Sprinkle peeled bananas with chili powder (can use more or less to taste). Cut each banana into four roughly equal pieces. Roll each piece in maple syrup and wrap in one slice of bacon. Secure with toothpick.
Grill on medium heat for 5 to 8 minutes or until bacon is nicely browned and crisp, turning occasionally . Serve immediately.
Serves: 4