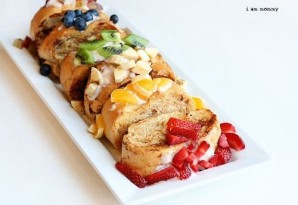 This time of year rainbows are not uncommon and very welcome. The rain pours down for hours, the clouds break apart and after a little bit of waiting it happens..one of those "magical" rainbows.  It might only last a moment, but that sure is a wonderful moment.  After a week of rain when outdoor work has to be put aside and we are confined to our homes and offices, a few moments of sunshine and a rainbow can really brighten the spirit.
Getting back outside and walking through the woods all the rain has made everything so green. Ferns and the leaves on the maple trees glisten in the sunlight. It is wonderful to be out among maple trees, which have seen generations of maple farmers and gifted gallons of maple syrup to thousands of families.
After a long walk coffee and sustenance are needed. This recipe for Rainbow Stuffed French Toast from Martha Stewart Living seems like a great way to take care of the hunger pains and celebrate the sunshine. It is also a good way to get more fruit onto the breakfast table. Serve with maple syrup!