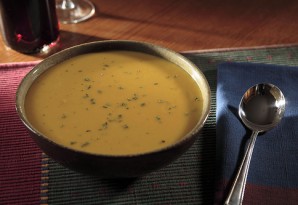 Roasted Butternut Squash Soup
Ingredients:
1 (2 to 2 1/4 lb) butternut squash, halved and seeded
2 Tbsp olive oil
1 medium onion, chopped
2 Tbsp chopped fresh flat-leaf parsley
5 cups low-sodium chicken broth
1/4 cup Coombs Family Farms pure maple syrup
1/2 tsp salt
1/2 tsp pepper
4 Tbsp heavy cream
Directions:
Preheat oven to 425 F.  Brush insides and outsides of squash halves with 1 T of oil and place, cut sides up, on cookie sheet or in roasting pan.  Bake for one hour or until squash is tender.  Remove from oven and cool.
Heat remaining 1 T of oil in large pot.  Cook onion until softened. Scoop out squash from peel and add to onion, stirring. Add parsley. Stir in chicken broth and simmer, about 20 minutes. Add syrup, salt and pepper. Just before serving, stir in cream.