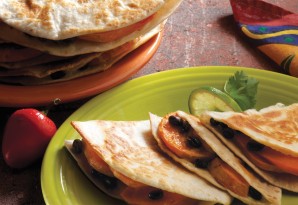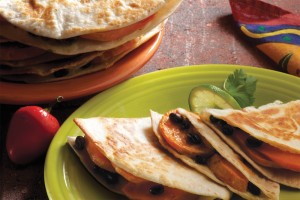 Ingredients:
Maple Glaze
1/2 cup of Coombs Family Farms 100% pure or organic maple syrup
1 T Dijon mustard & 1/2 tsp. chipolte powder
Salt & freshly ground pepper
Quesadillas
8 flour tortillas
1 c. ea. grated white Cheddar & Monterey Jack cheese
2 med. sweet potatoes, peeled, cut into 1/4″ round slices
Black beans (optional)
Preparation:
Place potato rounds on cookie sheet, brush with glaze. Broil till tender, turn over, glaze & broil again. Using two tortillas for each serving, place 1/4 c. cheese on a tortilla, top with sweet potato slices & black beans. Drizzle maple glaze over top, sprinkle with cheese, & top with second tortilla. Repeat using all tortillas. Place on hot griddle or in saute pan & toast till tortilla is crisp & cheese starts to melt. Flip over & cook on second side.