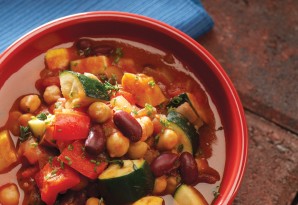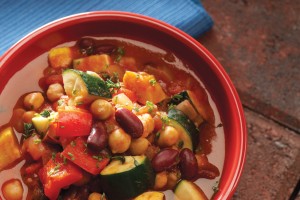 Ingredients:
3 T olive oil
3/4 cup chopped white onion
1 large garlic clove, diced
1/2 tsp. chopped jalapeno
1 1/2 cups chopped yellow and red peppers
1 cup ea. chopped zucchini, yellow squash & carrots
2 – 15 oz. cans diced tomatoes
1-15 oz. can tomato sauce
1-15 oz. can drained & rinsed chick peas
1-15 oz. can drained & rinsed red beans
Salt, black pepper and cayenne pepper to taste
1 T paprika
1 1/2 T chili powder
1/4 cup Coombs Family Farms 100% pure or organic maple syrup
Preparation:
In 3 T olive oil, saute onion, garlic, peppers, squash, zucchini & carrot in large pot for about 5 min. or until veggies are tender, not soft. Add tomatoes & tomato sauce, beans, salt, pepper, paprika, chili powder & syrup. Mix together. Add cayenne pepper to taste. Reduce heat to low, simmer for about 30 min. or until carrots are tender. Add more cayenne, and/or salt & pepper to taste. Serve with sour cream, cheddar cheese & chives.