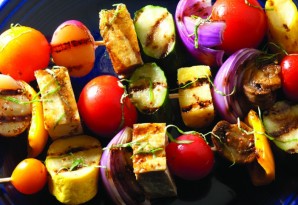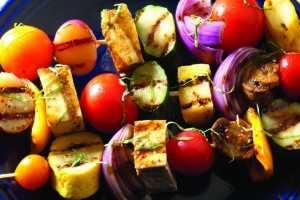 Ingredients:
2 medium red or white potatoes
1 cup firm or extra-firm tofu chunks
1 cup red, yellow or green bell pepper chunks
1 cup ea. pineapple chunks, red onion chunks, white button mushrooms, zucchini or yellow squash chunks & cherry tomatoes
Wooden skewers, soaked in water for 30 minutes.
Marinade:
1/2 cup ea. olive oil & lemon or lime juice
1/4 cup water
1/4 cup Dijon mustard
2 T Coombs Family Farms 100% pure or organic maple syrup
2 T minced garlic
2 T chopped fresh basil leaves
1/2 tsp. ea. salt & freshly ground black pepper
Preparation:
Cook potatoes in salted water till tender. Cool; cut into one inch chunks. Place potatoes, veggies & tofu in shallow dish. Pour marinade over veggies. Cover; refrigerate 2 hrs. Preheat outdoor grill to medium. Remove veggies & tofu from marinade, reserving marinade. Thread on skewers, alternating colors. Cook on grill till veggies are lightly charred, about 10 min., basting with reserved marinade & turning occasionally. For marinade: whisk all ingredients in small bowl. Can be prepared in advance & kept in refrigerator up to 7 days.