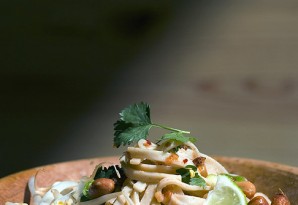 I use this sauce when I do not have a lot of time to prepare dinner and want to indulge myself and guests just a bit.  The recipe is from my friend Cindy, a gourmand in the kitchen who is great with devising simple and delicious dishes.  This one you can make in a few minutes with a food processor.  The ingredients should be available at your local supermarket. If you have an Asian grocery store near you maybe stock up on some of the ingredients there as I have found they offer more variety and can be a little cheaper.
Thai Style Peanut Sauce with Maple
4 Tbsp Coombs Maple Sugar
5 Tbsp natural peanut butter
3 Tbsp soy sauce
2 Tbsp rice vinegar
2 Tbsp hot water
1 Tbsp sesame oil
2 tsp minced fresh garlic
1 Tbsp minced fresh ginger root
1 tsp crushed red pepper flakes
Preparation: Put all ingredients in food processor; mix until blended and smooth.
Suggested uses: Toss with Asian style noodles and/or stir fried veggies or use as a dipping sauce for chicken, beef or veggies. Enjoy!
Photo by Jon Levitt.