Organic Maple Sugar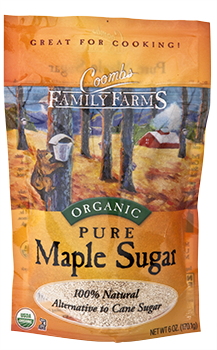 Organic maple sugar is a 100% natural alternative sweetener long prized for it's unique, rich sweetness.  Try our organic sugar in baking, as a main ingredient in rubs and marinades, in coffee or tea, or sprinkled on fresh fruit. Savor the maple!
Maple Substitution Guide
Remember that maple sugar is sweeter than regular cane sugar! You only need to use ½ to ¾ cup of Coombs Family Farms Maple Sugar in place of 1-cup cane sugar. Check out our recipes for delicious ways to use maple sugar in your favorite foods.
Allergen Statement | GMO Statement
Coombs Family Farms offers a line of Pure Maple Products at our Amazon store – or at fine retailers near you.