Understanding Maple Syrup Grades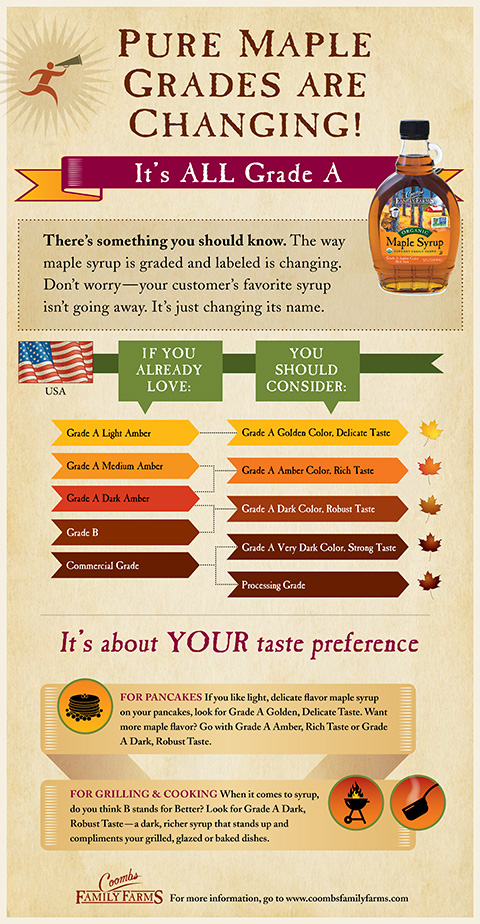 All maple syrup grades are determined by color and flavor, the darker the color, the more intense the maple flavor. Not unlike wine, each grade offers its own unique set of distinctive flavors and tones, and everyone has their own personal preferences. Lighter syrups are those that are produced earlier in the sugaring season, whereas darker syrups are produced as the season progresses.
New Guidelines for maple syrup grade changes
While the maple syrup grades will change, many things will remain the same. Coombs Family Farms will still produce the highest quality pure maple syrup products that will continue to be delicious (and healthy) additions for your pancakes, other favorite foods, and your recipes. The International Maple Syrup Institute (IMSI) proposed these new maple grades to alleviate consumer confusion (right now the United States and Canada have separate classification standards) and provide continuity for export markets. This revised grading maple syrup terminology will make it even easier for you to identify and buy pure Vermont maple syrup products.
The new maple syrup grades only apply to pure maple syrup, not imitation breakfast syrups or other fake products. These 100% real maple syrups are divided into two primary grades. In addition to this helpful Maple Syrup Grades Map, the new maple syrup grades are outlined below:
1. Grade A (with four classifications):
Sold in retail markets, this high quality pure maple syrup grade is intended for human consumption. There are four separate designations and flavor profiles under this grade:
Golden Color and Delicate Taste: With a pronounced golden hue, this delicate and mild tasting syrup is often a favorite pairing for pancakes. (This is comparable to the Grade A Light Amber grade).
Amber Color and Rich Taste: Also ideal for pancakes, this amber colored syrup, which can be either light, medium, or darker in hue, has a full-bodied and rich flavor. (This is comparable to the Grade A Medium Amber or Grade A Dark Amber grades).
Dark Color and Robust Taste: Stronger and darker than the lighter grades, this has a robust and substantial flavor that is ideal for grilled, glazed, or baked dishes. (It is comparable to Grade A Dark Amber, Grade A Extra Dark, or Grade B).
Very Dark and Strong Taste: This strongest maple syrup flavor is typically used for cooking purposes.
2. Processing Grade:
This second grade of maple syrup is not permitted for retail sale, but is suitable as an ingredient in food products. While it doesn't meet Grade A requirements, it does meet all other maple regulations and food quality/safety guidelines.
Discovering your preferences within the new maple grades
Given these details on the maple syrup grade changes (and its comparison to the original grades), it is reassuring to know that you will always have access to your favorite Coombs Family Farms maple flavors. Be sure to continue to visit our website and blog in the weeks to come for updates on the new maple grades and when you can expect to see them on your grocery store shelves.
Why grading maple syrup became a necessity
In 1887, Log Cabin, the first breakfast syrup that wasn't 100% pure maple, was introduced to the public. It was made of 45% maple syrup and 55% corn syrup. Its cheap price compared to real maple syrup made it an instant hit amongst consumers. As newer brands of imitation syrup started emerging onto the market, Log Cabin further decreased the amount of maple syrup in their product in order to maintain competitive pricing. By the 1990s, most of these syrup brands had eliminated maple syrup from their products entirely, opting to use high fructose corn syrup (HFCS), artificial flavorings and artificial colors instead. As a result, labeling laws in the United States were enacted to prohibit artificial syrups from using the word maple in their names.
Developing a method of grading maple syrup became necessary in order to ensure the authenticity of the products, and also to inform consumers about the flavor profile of each grade variety.
Technically, maple syrup for retail sales is divided into just two grades: Grade A and Grade B. Grade A is further broken down into three subgrades which include Grade A Light Amber, Grade A Medium Amber and Grade A Dark Amber which give us our four consumer USDA grades. In addition to these consumer grades, commercial grade maple syrup is sold as an ingredient. As mentioned above, Vermont legislators have approved a new international maple syrup grading standard, which will take effect at the consumer level in January 2014.
We always have your favorite maple syrup grades in stock!
Coombs Family Farms has been producing high quality and great tasting maple products for seven generations. We are committed to protecting the health of our forests and making products that are100% organic. No matter which maple syrup grade you choose, you can feel good about using them in any and all of your culinary endeavors.
Organic maple syrup is undoubtedly the healthiest and most versatile sweetener out there. Each grade boasts its own unique flavor profile, and when you add maple syrup as one of your kitchen staples, the culinary possibilities are truly endless. Whatever your maple preferences are, you will find superior flavor and quality in every bottle of Coombs Family Farms 100% pure maple syrup. With seven generations of experience under our belts, you will taste the difference!
Try out a few grades and see for yourself how much better your favorite meals can be with 100% pure organic maple syrup!