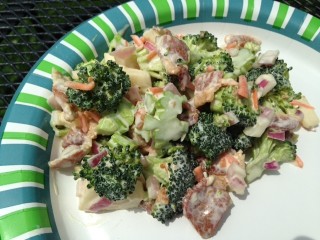 Maple Bacon Broccoli Salad
Ingredients
1/2 pound bacon, fried and crumbled
1 head fresh broccoli, chopped
1 carrot, peeled and shredded
1 small apple, peeled and sliced into 1/2 inch cubes
1 small red onion diced
1 C mayonnaise
2 Tbsp Maple Sugar (sweeten to taste)
2 Tbsp white vinegar
Directions
Fry bacon, crumble and set aside.
Wash and chop broccoli and place in a large bowl.
Wash, peel and shred carrot then add to broccoli; add diced onion, cheese if using, bacon, apple, and walnuts if using.
In a separate bowl combine mayonnaise, maple sugar, and vinegar.
Whisk until well combined.
Add dressing to broccoli mixture and mix well.
Refrigerate at least 1 hour.