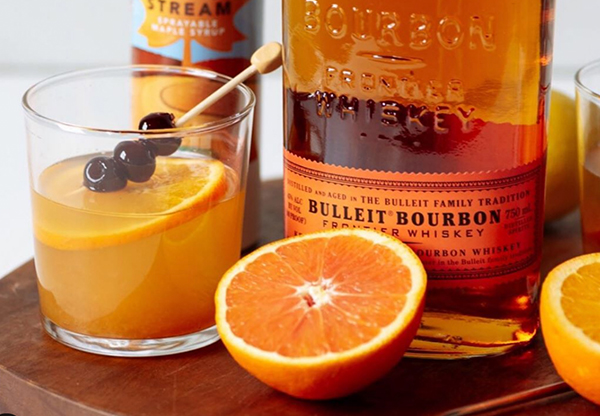 From Convenience to Cocktails to DIY Maple Add-ins and Brussels Sprouts
BRATTLEBORO, VT. (PRWEB) JANUARY 09, 2019
Coombs Family Farms, a seventh generation producer of pure and organic maple and a champion of small family farms, today forecasted maple trends for 2019. Key events of 2018 set the stage for more maple research and promotion in the year ahead.
ACER and No "Added Sugar"
Through Congressional approval of the Farm Bill in December, the ACER Access and Development Program was extended to provide grant money to support research and promotion of the domestic maple syrup industry. The Bill also took an important step in the debate of Nutrition Facts of pure maple syrup and whether maple must be included in the "added sugars" line on labels, along with non-naturally occurring sugars and artificial sweeteners. In approving the Bill, Congress has made maple exempt, supporting maple farmers.
Health Benefits of Maple
One such ACER federal grant was awarded to a team of scientists at University of Rhode Island to continue research on health benefits of maple; specifically, minerals, vitamins, amino acids and more than 67 bioactive natural plant compounds with potential health benefits. The URI team received nearly $500,000 in ACER funds. While maple has largely been lauded as healthy for what it is not—processed, refined and artificial—maple is recognized more and more as a healthy food for what it IS: anti-inflammatory, antioxidant- and nutrient-rich.
Growth in Organic
U.S. organic sales surpassed $21 billion in the 52-week period ended Nov. 24, 2018, up nearly 9 percent from the previous 52-week period, according to Nielsen Homescan household projected data. Millennials, who spent 14 percent more on organic products compared to the previous 52-week period, are a key demographic. Specific maple sales have not been released; however, organic maple will correspond with overall growth of organic and increased interest in reducing refined sugar and artificial sweetener intake. In 2017, organic maple reached $20 million, with 16 percent growth. Coombs Family Farms is the number one organic maple brand in the U.S.
With these positive achievements and others bolstering maple for the year ahead, Coombs Family Farms predicts these five maple trends on the shelf and in kitchen:
1.    Maple Spice Is the New Pumpkin Spice
August 28 was a particularly hot summer afternoon across much of the U.S., and the earliest launch to date for Starbuck's Autumnal treat, the pumpkin spice latte. The launch sparked backlash and a torrent of social media, perhaps indicating pumpkin spice has fallen out of favor. Pure and organic maple doesn't require mixing, contains no artificial flavors, and is easily added to foods and beverages. According to MarketWatch, maple could be moving in on pumpkin spice as the new flavor of Fall.
2.    Convenience: Buh-Bye Sticky Mess
Consumers are demanding more convenience and less mess. Coombs Family Farms launched Maple Stream, the first spray-able maple syrup, to the trade in 2018. At the push of a button, Coombs Family Farms Maple Stream dispenses just the right amount of Organic Grade A amber color and rich taste maple syrup. Maple Stream is eco-friendly, shelf-stable, portion-controlled and available in retail locations in 2019.
3.    Maple-glazed, Plant-based Food
According to Nielsen and SPINS, the total plant-based food market is worth more than $4.1 billion. The Plant Based Food Association reported plant-based meat alternatives totaled $670 million in sales, a 24 percent jump, compared to six percent in 2017. While enthusiasm builds for these products, Coombs Family Farms reminds consumers to eat their vegetables, the original plant-based food. Maple-glazed vegetables are a delicious way to serve up vitamins, minerals and fiber. A few tablespoons of pure maple coaxes out the earthy sweetness of vegetables. While the debate rages on if cauliflower is the new kale, it's maple-glazed roasted Brussels sprouts for the win.
4.    Maple Mixology
Pure and organic maple is showing up in cocktails with bourbon, rum, gin and mezcal at trendy bars and restaurants. The liquid gold doesn't require the refined sugar or mixing of simple syrup, and is an easy and delicious bartender's friend. How about a Maple Mojito?
5.    DIY Maple Add-ins
While flavored maple can be delicious, too much vanilla or spice can easily be overdone, and "smoke" can taste fake in prepared infused maple. Why not start with pure maple syrup and make your own, adjusting spice and flavor to your liking? And while you're at it, a few drops of pure maple is a concentrated source of minerals and antioxidants. Pure maple syrup is simply sap, or "maple water", boiled down and reduced, without any additives. Maple water is 98% water. By adding small amounts of pure maple syrup to water one can easily control the sweetness while still getting the health benefits of maple.
About Coombs Family Farms
For seven generations, Coombs Family Farms has produced great-tasting, 100 percent pure and organic maple syrup. Coombs Family Farms sources maple from over 3,000 small family farms that share a commitment to quality, environmental stewardship, and sustainable forestry management. As the number one organic maple brand in the country, Coombs Family Farms takes pride in working with farmers throughout the North East. For further information visit http://www.coombsfamilyfarms.com. Coombs Family Farms is also on Instagram @coombsmaple and Facebook http://www.facebook.com/GetRealMaple.
Press Contact:
Elizabeth Horton
Simmer Public Relations
simmerpublicrelations@gmail.com
(207) 838-0084