Get Real. Taste the Truth.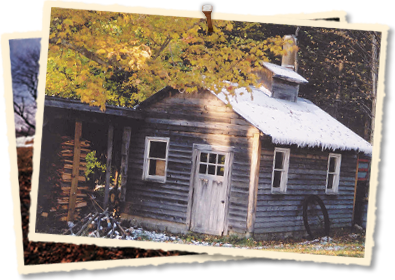 In 1887, Log Cabin, the first breakfast syrup that wasn't 100% pure maple, was introduced to the public. It was made of 45% maple syrup and 55% corn syrup. Its cheap price compared to real maple syrup made it an instant hit with consumers. As newer brands of imitation syrup started emerging onto the market, Log Cabin further decreased the amount of maple syrup in their product in order to maintain competitive pricing. By the 1990s, most of these syrup brands had eliminated maple syrup from their products entirely, opting to use high fructose corn syrup (HFCS), artificial flavorings and artificial colors instead. As a result, labeling laws in the United States were enacted to prohibit artificial syrups from using the word maple in their names.
Coombs Family Farms has been producing high quality and great tasting maple products for seven generations. Offering our customers pure, delicious maple syrup is what we love to do – and taking care of the forest is our greatest responsibility. Our pure Vermont maple syrup, certified organic maple syrup and all our maple products are harvested and processed responsibly in ways that not only ensure delicious maple products, but honor the needs of the forest, protecting our trees and drastically reducing our energy use and carbon footprint.We buy our maple from hundreds of small family farmers who are as dedicated to the practice of sustainable and organic agriculture as we are.
---
Read other posts about real maple syrup versus fake syrup:
---

Our products include 100% pure maple in various grades, organic maple syrup in various grades, pure organic maple sugar, pure maple candies, and pancake mixes. All of our maple products are naturally gluten free and made without the industrial additives or artificial flavors, colors, preservatives, and thickeners found in 'table syrup.'

Our organic maple syrup and our organic maple sugar are certified by Quality Assurance International (QAI) and carry the USDA organic seal. We are also certified kosher by Kof-K.