Grades Describe Color and Taste
Real maple syrup is Grade A (with four classifications):
Golden Color and Delicate Taste: With a light-golden hue, this delicate and mild tasting syrup is a favorite on pancakes, waffles, ice cream, and more.
Amber Color and Rich Taste: This amber colored syrup has a full-bodied and rich flavor. This grade is great as a topping and in coffee & tea.
Dark Color and Robust Taste: Stronger and darker than the lighter grades, this has a robust and substantial flavor that is ideal for grilled, glazed, or baked dishes. (Formerly known as Grade B.)
Very Dark Color and Strong Taste: This strongest maple syrup flavor is typically used as an ingredient for flavor and sweetening.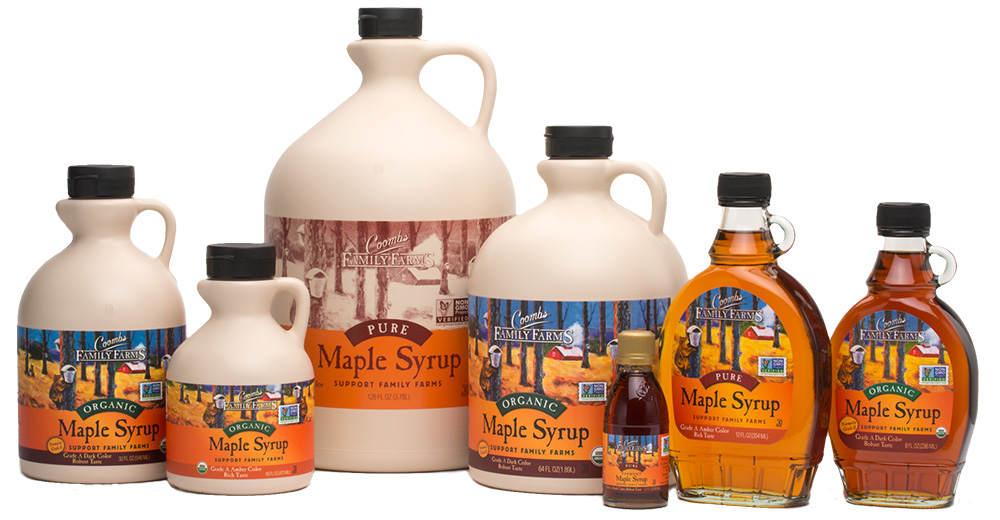 Organic Maple Syrup
Organic maple syrup boasts its own unique flavor profile; when you add maple syrup as one of your kitchen staples, the culinary possibilities are truly endless. Whatever your maple preferences are, you will find superior flavor and quality in every bottle of Coombs Family Farms 100% pure maple syrup. With seven generations of experience under our belts, you can taste the difference!
Try out a few grades and see for yourself how much better your favorite meals can be with organic maple syrup!
---