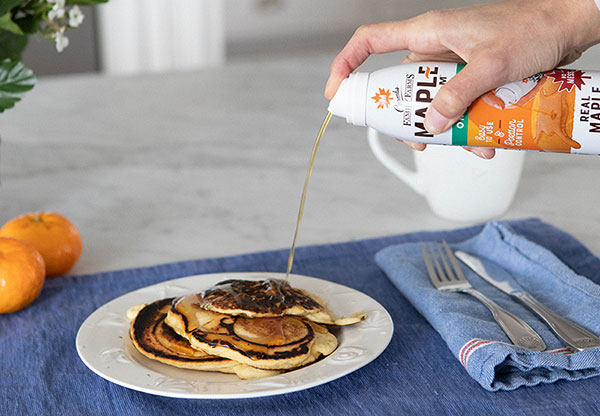 All the Delicious Organic Maple Syrup, None of the Mess!
Coombs Family Farms, a seventh generation producer and packer of pure and organic maple, presents Coombs Family Farms Maple Stream™, the first spray-able maple syrup. At the push of a button, Coombs Family Farms Maple Stream dispenses the right amount of Organic Grade A amber color and rich taste maple syrup with no sticky mess. Coombs Family Farms Maple Stream is great for families and is convenient, eco-friendly, and fun.
"Kids love maple, and there's something inherently wholesome about a New England tradition and real sweetener," says Arnold Coombs, seventh generation sugarmaker. "Parents are wanting convenience, but they also want unrefined sugars and none of the fake stuff. Kids have a heavy hand when pouring the good stuff, so why not trust them to pour their own with portion-controlled, no-mess Maple Stream?"
Coombs Family Farms Maple Stream comes in a 7-oz. recyclable can that streams out mess-free, portion-controlled, organic maple syrup. The syrup contains no flammable propellants. Maple Stream is available nationwide with a suggested retail price of $7.99.
Pure maple syrup is made by concentrating the slightly sweet sap of the Acer Saccharum or "sugar" maple tree through a process of heating and evaporation. The sap is collected by tapping the trees with small, tree-friendly spouts. The sap is then gathered and boiled in an evaporator. When the finished syrup is drawn off the pan, it is filtered, and packaged. Pure maple is naturally sweet, with nothing added. It takes 40 gallons of sap to make one gallon of pure maple syrup.
In recent years, several health benefits have been associated with consuming maple,
including controlling blood sugar, better brain and liver health, reducing chronic inflammation, and producing a healthy gut biome. Research shows that more than 67 bioactive compounds with antioxidant activity and potential health benefits have been identified, which is double the amount previously reported.
Coombs Family Farms maple goes with more than breakfast. It provides a complex sweetness that pairs well with vegetables, barbecue, dressings and sauces, cocktails, and dessert, year-round.
It's easy to substitute Coombs Family Farms pure and organic maple for sugar or other sweeteners in recipes; just decrease liquids and temperature accordingly.
Like all Coombs Family Farms organic maple products, Maple Stream is certified organic. In addition to being free of toxic pesticides, synthetic fertilizers, and GMOs, Coombs Family Farms organic maple syrup is produced with sustainable forestry practices.
About Coombs Family Farms
For seven generations, Coombs Family Farms has produced great-tasting, 100 percent pure and organic maple syrup. Coombs Family Farms sources maple from more than 3,000 small family farms that share a commitment to quality, environmental stewardship, and sustainable forestry management. As the number one organic maple brand in the country, Coombs Family Farms takes pride in working with farmers throughout the North East. For further information visit www.coombsfamilyfarms.com. Coombs Family Farms is also on Instagram @coombsmaple and Facebook @coombsmaple.
Media Contact:
Elizabeth Horton
SimmerPublicRelations@gmail.com
(207) 838-0084