A delicious recipe that goes great with maple syrup and weekends.  To find out what sourdough starter is visit this link, and visit here to find out how to make it. The best way to "make sourdough starter" is to get some from a friend and then care for it. This site has a lot of information on caring for  your sourdough starter.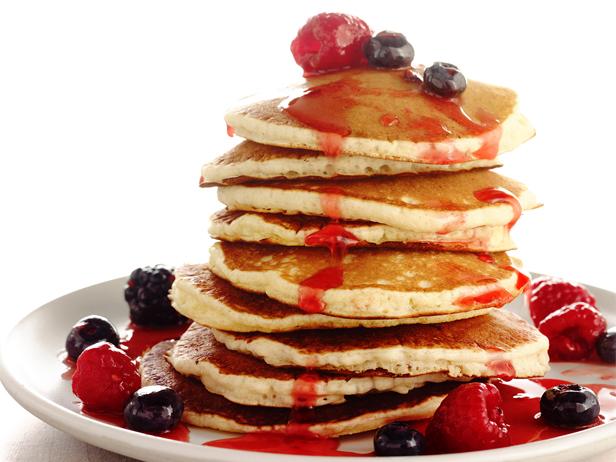 (adapted slightly) from the March, 2011 issue of Vegetarian Times
---
Ingredients
1 1/4 cups Sourdough Starter
1 1/4 cups all-purpose flour, divided
3/4 cup warm milk
2 Tbsp sugar or honey
3 Tbsp butter or nonhydrogenated margarine, melted
1 large egg
1 tsp baking powder
1/2 tsp baking soda
1/2 tsp salt
1 1/4 cups fresh blueberries
---
Directions
Stir together the starter, 3/4 cup flour, milk, and sugar (or honey) in medium bowl. Cover loosely, and let sit overnight.
Whisk in the butter and egg the following morning. Combine remaining 1/2 cup flour with baking powder, baking soda, and salt in separate bowl. Stir flour mixture into batter, adding 1/4 cup more flour if needed. Stir in blueberries. Let sit 5 to 10 minutes.
Heat griddle or skillet over medium-high heat. Reduce heat to medium, and coat with cooking spray. Pour about 1/4 cup batter per pancake into skillet. Cook 1 to 1 1/2 minutes on each side, or until golden.
Yield: 12 4-inch pancakes