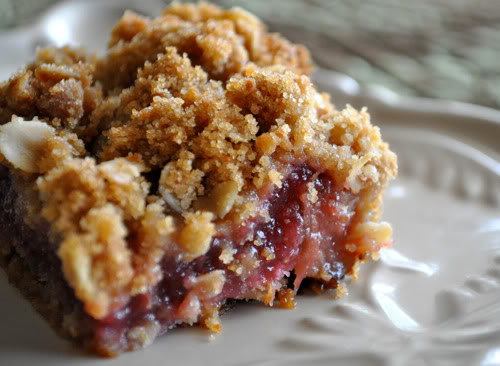 Arnold's mother Shirley Coombs substituted maple in all baking recipes. Rhubarb grew in their backyard, overlooking the sugar shack and a 300-year old maple tree, nearly 20 feet in circumference.
---
Ingredients
2 lb fresh rhubarb stalks peeled and cut into 1-inch pieces
1 1/4 cups Coombs Family Farms Grade A Color, Robust Taste Maple Syrup
1 Tbsp fresh lemon juice
3 Tbsp cornstarch
2 pinches of salt
3/4 cup flour
1 cup old fashioned rolled oats
1 stick butter, cut into 12 pieces
Preheat oven to 425.  Combine rhubarb stalks, 3/4 cup maple syrup, lemon juice, cornstarch, and pinch of salt in a large bowl. Then, spoon into baking dish. In separate bowl, stir together flour, oats, 1/2 cup maple sugar and salt. Mix in butter with your hands until crumbly.  Spread topping evenly over filling.  Bake for 45 minutes.  Cool slightly, and serve warm with vanilla ice cream or a dollop of crème fraiche.
---
Photo Whipped the Blog.