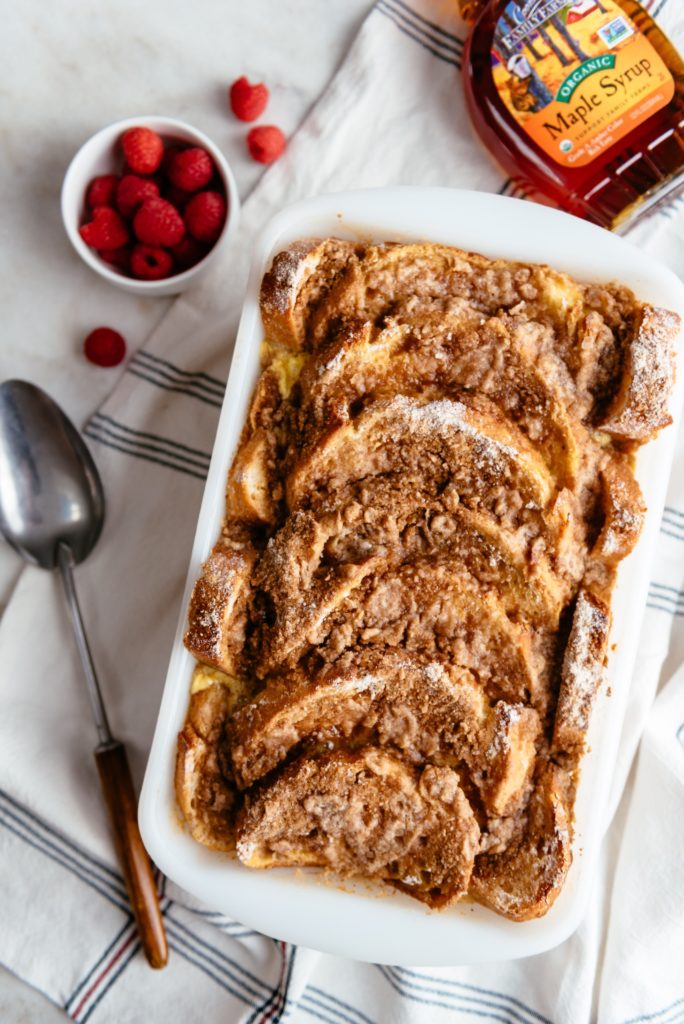 *Serves 8
Ingredients
For the French Toast:
1 loaf of crusty french bread or 2 baguettes, sliced into ¾ inch thick pieces
8 eggs
2 cups whole milk
¼ cup of packed light brown sugar
¼ cup Coombs Maple Syrup
1 tablespoon pure vanilla extract
1 ½ teaspoons cinnamon
1 teaspoon nutmeg
For the Topping:
¼ cup cold butter, cut into small dice
½ cup packed light brown sugar
¼ cup flour
½ teaspoon salt
Confectioners' sugar for dusting
Directions
Line a lightly greased casserole dish with the slices of bread, overlapping slices slightly.
In a bowl, whisk together eggs, milk, brown sugar, vanilla extract, cinnamon, and nutmeg. Pour the egg mixture over the top of the bread and cover. Place the casserole in the refrigerator overnight or until the bread soaks up all of the creamy egg mixture (at least 2 hours).
When the casserole is ready to bake, remove it from the fridge and allow it to come up to room temperature a bit as you preheat the oven to 350℉. Make the casserole topping by combining the butter, brown sugar, flour and salt in a small bowl. Use a fork or your hands to break up the butter into even smaller pieces, until the mixture is the consistency of coarse sand. Spread the topping evenly over the casserole and bake for 35 minutes, or until the center is set.
Dust the baked french toast with confectioners' sugar and serve with extra maple on the side!