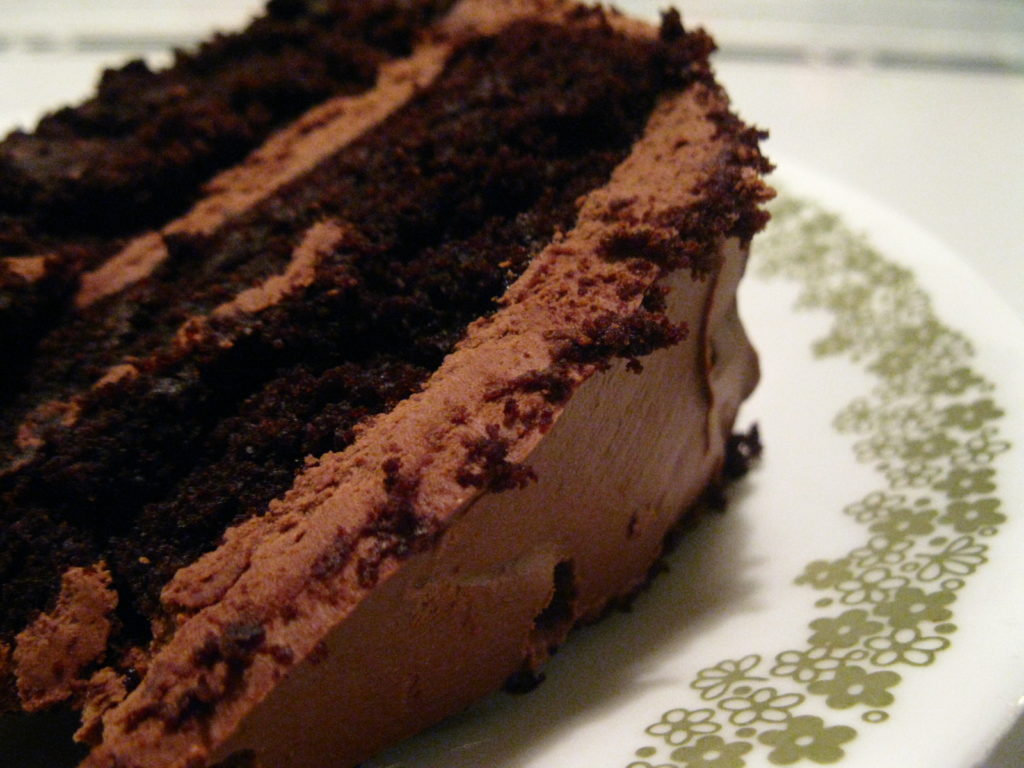 This recipe comes to you by way of Leslie Cerier, author of Going Wild in the Kitchen and Gluten-Free Recipes for the Conscious Cook. For more deliciously healthy recipes visit Leslie's blog or website.
Loved by vegans and non-vegans alike, this rich chocolate cake is the one Leslie usually makes for birthdays. She suggests serving it plain, drizzled with Hot Fudge, or frosted with Vegan Chocolate Mousse.
from Leslie Cerier's Going Wild in the Kitchen
Ingredients
1 3/4 cups whole wheat pastry flour
1 Tbsp baking powder
1/4 tsp sea salt
2 1/2 Tbsp flax seeds
1/2 cup apple juice
1/4 cup canola oil
1/2 cup Coombs Family Farms Grade A Dark Color, Robust Taste Maple Syrup
1/2 Tbsp vanilla
1 1/2 cups dark chocolate chips* or 5.3-ounce dark chocolate (70 or 72%) broken into 1-inch pieces (1 ½ cups) * Fair Traded chocolate is strongly suggested.
3/4 cup vanilla soymilk
Directions
1. Preheat the oven to 350°F. Lightly oil a 9-inch cake or loaf pan and set aside.
2. Combine the flour, baking powder, and salt in a large mixing bowl and set aside.
3. Place the flaxseeds in a blender and grind to a powder. Add the juice, oil, maple syrup, and vanilla, and blend well.
4. Heat the chocolate chips and soymilk in a 1-quart saucepan over low heat. Stir constantly about 3 minutes, or until the chocolate melts.
5. Add the melted chocolate and flaxseed mixture to the flour mixture and stir well to form a smooth batter.
6. Pour the batter into the cake pan and bake 40 minutes, or until a toothpick inserted in the center comes out clean.?7. Let the cake cool 30 minutes before removing from the pan. Serve plain or frosted.
For a Change…
Omit the soymilk and use 1 ¼ cups juice. Melt the chocolate in a double boiler or in a skillet over low flame stirring constantly.
Also, you can substitute other flours. If you like, use all spelt flour and subtract 25% liquid from the recipe above. Or if you want to add more calcium and iron and use some teff flour, you may substitute up to 25% teff flour for the whole wheat pastry flour. Either way, this cake will please everyone.
Yield: 8 servings
Recipe excerpted from Going Wild in the Kitchen by Leslie Cerier, copyright 2005, Square One Publishers, Inc. Used by permission