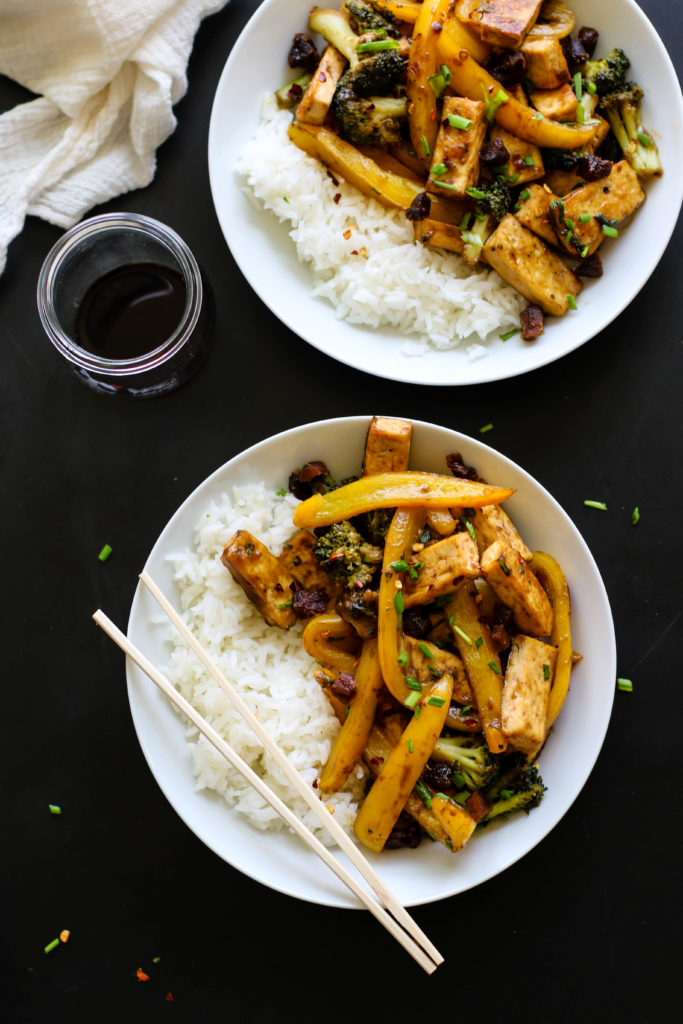 2-3 Serving / 15 mins Prep Time / 30 mins Cook Time / 45 mins Total Time
Ingredients
STIR FRY
1 16-oz. package extra-firm tofu
2 cups roughly chopped broccoli
1 yellow bell pepper, thinly sliced
1 TBS avocado oil (or sub high-heat oil of choice)
Optional for topping: fresh chives, red pepper flakes
SAUCE
2 TBS Tamari lite (or sub low sodium soy sauce)
2 TBS Coombs Rich Taste Maple Syrup
1 TBS banana flour (or sub cornstarch)
2 dried apricots, finely diced
Directions
Preheat oven to 400 degrees F and prepare a baking sheet with parchment paper.
Drain the tofu block, rinse, wrap in paper towel, and press firmly with your hands for a quick press. Cut the block into 1" rectangles and arrange on the baking sheet.
Bake for 25-3 5 minutes, flipping once halfway through to ensure even baking. The tofu should be golden brown on the edges and slightly firm to the tofu. For firmer tofu, bake 10-15 minutes longer.
If serving over rice, start the rice at this point and prepare according to package instructions.
In a small mixing bowl, whisk together all of the sauce ingredients and set aside.
Add the avocado oil to a large skillet and heat over medium-high. Add the bell pepper and broccoli and toss to coat. Cook for 5-7 minutes, stirring often. When the vegetables have slightly softened, add the sauce and stir, then add in the baked tofu.
Cook the mixture for 3-5 minutes more, stirring frequently, until veggies are softened to your preference.
Serve alone or over rice. Garnish with fresh chives and red pepper flakes. Store leftovers separately in the fridge for 3-5 days.