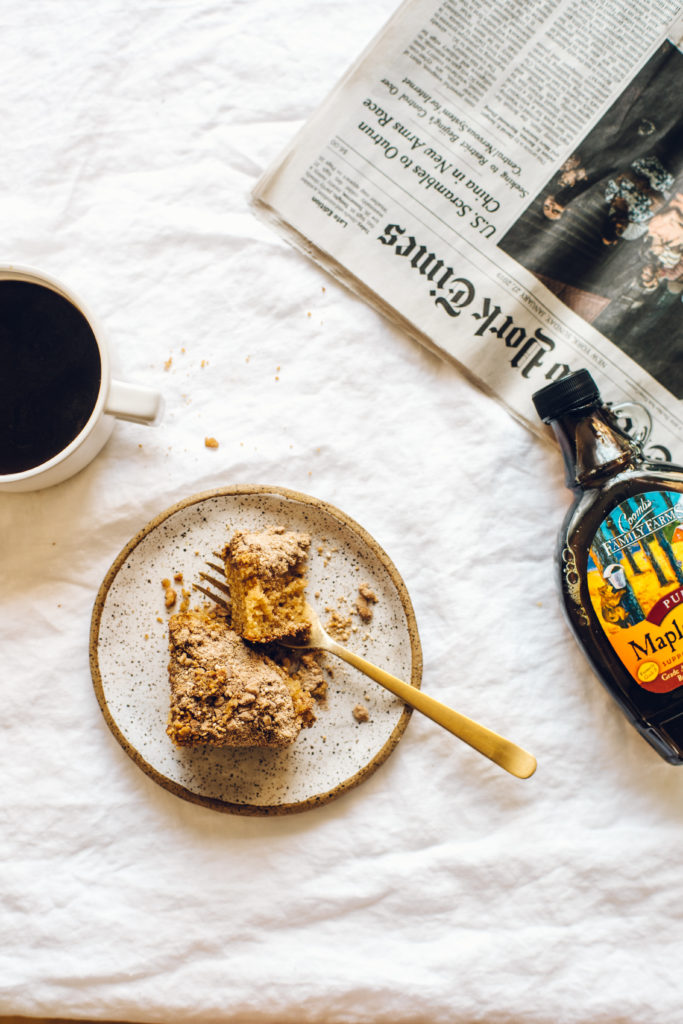 Servings: about 12
Prep Time: 15 mins
Cook Time: 30-35 mins
INGREDIENTS
½ cup Coombs Maple Sugar
½ cup Coombs Pure Maple Syrup
½ cup butter, room temperature
2 eggs
1 tsp vanilla extract
1 ¼ cup whole wheat flour
1 ½ tsp baking powder
½ baking soda
½ tsp salt
1 cup full fat greek yogurt
Topping
½ cup Coombs Maple Sugar
2 tbsp whole wheat flour
1 tbsp cinnamon
⅓ cup finely chopped walnuts
INSTRUCTIONS
Preheat oven to 350.
In the base of a stand mixer or in a large bowl with a hand mixer, cream together Coombs Maple Sugar, Coombs Maple Syrup, and butter. (This mixture will likely break, instead of getting fluffy. That's okay you just want them well combined.)
Add in one egg at a time, mixing on low-medium speed. After eggs are added, mix in vanilla extract just until combined and set aside for now.
In a medium sized bowl, sift whole wheat flour, baking powder, baking soda, and salt together.
Turn mixer on low, and rotate adding flour and greek yogurt, one third at a time of each. Stop the mixer and scrape down the sides if needed. Once fully mixed, turn off mixer. (Don't over mix.)
Grease a 9×13 inch pan with butter or coconut oil. Pour batter into pan and smooth the top out.
In a small bowl combine topping ingredients. Sprinkle over the top of your batter.
Bake for 30-35 minutes. Let cool completely before slicing.
EAT UP.