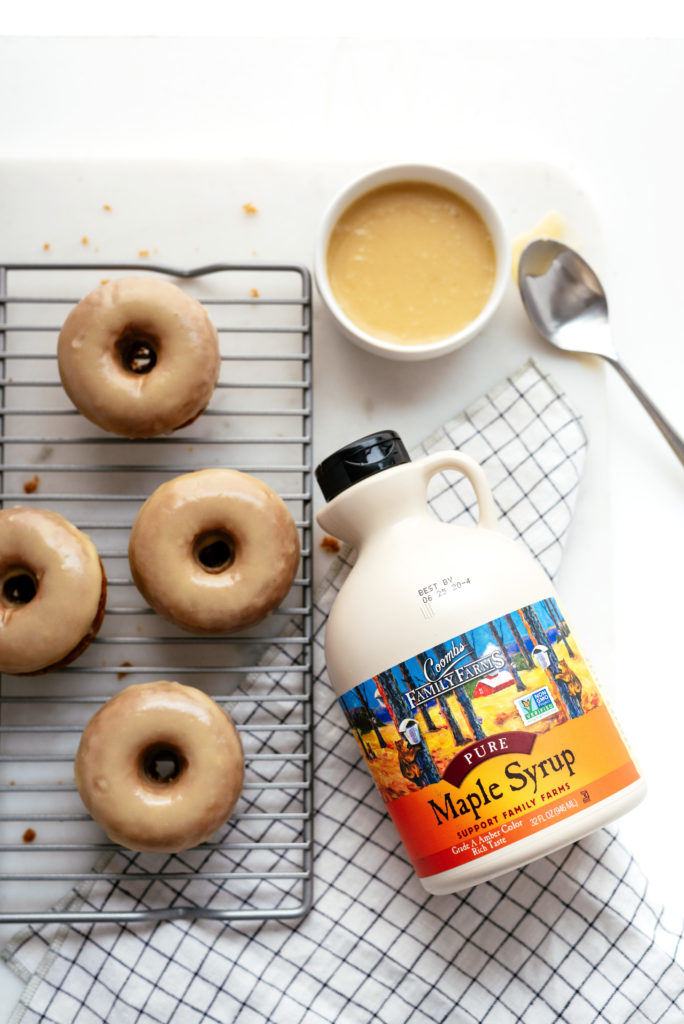 Ingredients:
1 cup all-purpose flour
1 teaspoon baking powder
1/4 teaspoon baking soda
1 teaspoon ground cinnamon
1/2 teaspoon ground nutmeg
1/4 teaspoon salt
1 large egg
2 tablespoons brown sugar
1 tablespoon Coombs Maple Syrup
1/4 cup milk
3 tablespoons yogurt
2 tablespoons melted butter
1 teaspoon pure vanilla extract
Directions:
Preheat the oven to 350 degrees Fahrenheit.
In a small bowl, combine the dry ingredients (flour, baking soda, powder, cinnamon, nutmeg, and salt). In a separate bowl, whisk together the egg, brown sugar, maple syrup, milk, yogurt melted butter and vanilla extract.
Gently fold the dry ingredients into the wet until they are just combined.
Fill the molds of a greased donut pan 2/3 full. Using a plastic bag with the corner snipped off to pipe the batter in is an easy way to do this!
Bake the donuts for 9 – 10 minutes. Let cool completely and then glaze with a mixture of 1/4 cup melted butter, 1/4 cup maple syrup, 1 cup sifted confectioners sugar and 1 tablespoon whole milk.