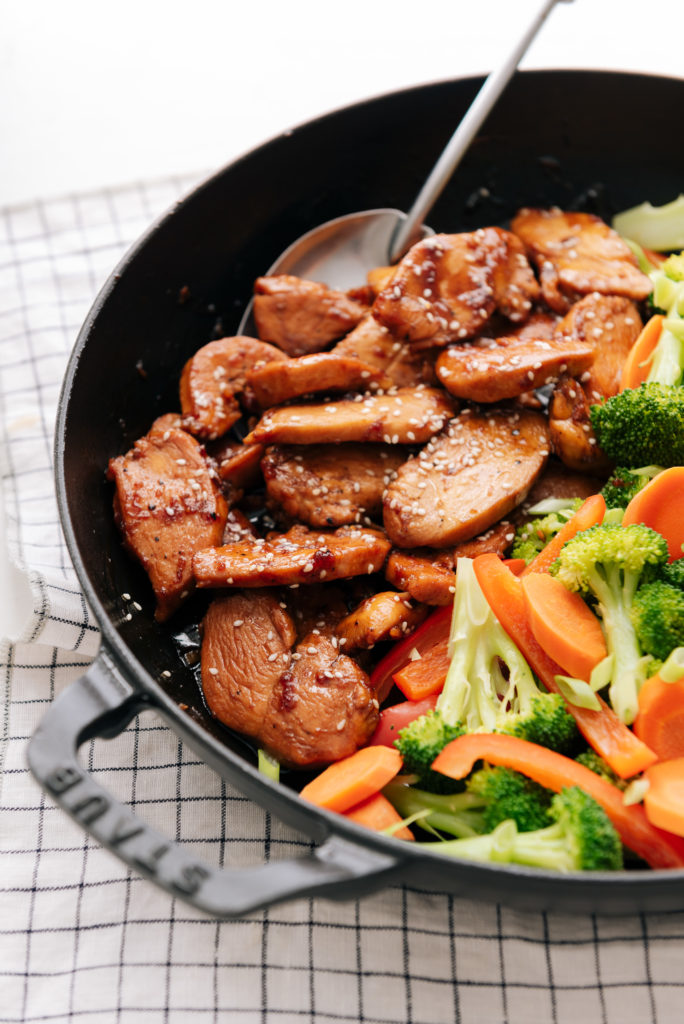 Ingredients:
For the Chicken:
1 lb. chicken breasts or thighs cut into 1″ pieces
2 tablespoons olive oil
Salt and pepper for seasoning
2 cups cooked rice to serve
For the Sesame Sauce:
1/4 cup coconut aminos
2 tablespoons of rice wine vinegar
2 tablespoons water
1 tablespoon toasted sesame oil (we love @latourangelleartisanoils!)
1/4 cup maple syrup
1 clove grated garlic
1-inch knob ginger, grated
Pinch red pepper flakes
1 teaspoon cornstarch
Sesame seeds for garnish
Directions:
In a large skillet, heat the olive oil over medium-high heat. Season the chicken pieces with salt and pepper and add them to the pan once the oil is hot.
Cook the chicken until it's golden brown on all sides and cooked through to an internal temperature of at least 165 degrees F.
Add all the sauce ingredients (except the sesame seeds) to the pan and stir well to coat the chicken evenly. Adjust the heat to simmer and cook the chicken in the sauce for another 2 – 3 minutes.
Serve the chicken on top of cooked rice and sprinkle with sesame seeds for garnish!