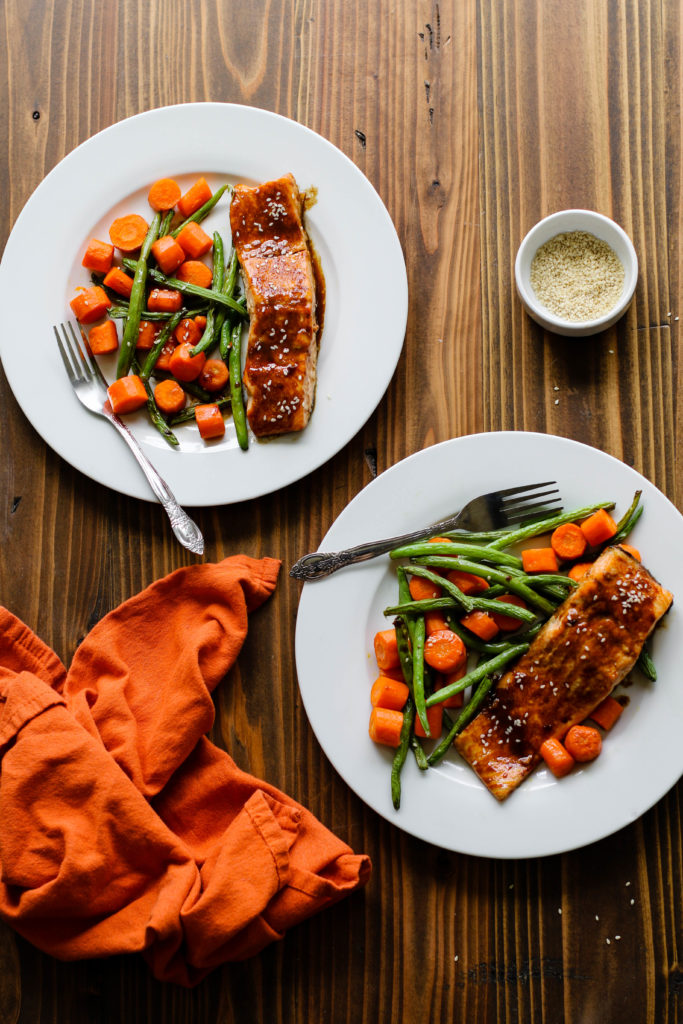 2 Servings / 10 mins Prep Time / 20 mins Cook Time / 30 mins Total Time
Ingredients
12 oz. fresh salmon (2 filets)
1 TBS Coombs Rich taste Maple Syrup
1 TBS Tamari lite (or sub soy sauce)
1 TBS Avocado oil + 1 Tsp
¼ tsp garlic powder
3-4 carrots, peeled and chopped
2 cups green beans, roughly chopped
pinch of Himalayan sea salt
White sesame seeds
Directions
Preheat oven to 400 degrees F.
Prepare a large baking sheet with parchment paper and add the chopped carrots and green beans. Drizzle with 1 tsp avocado oil and season with a pinch of Himalayan sea salt. Set aside.
In a small bowl, mix the maple syrup, Tamari lite, 1 TBS of avocado oil, and garlic powder.
Place salmon in a shallow glass baking dish and coat with the maple syrup mixture.
Place both the vegetables and fish in the preheated oven and bake uncovered for 20 minutes. The fish should be easily flaked with a fork and the vegetables should be fork tender while retaining a bit of crunch.
To serve, divide the veggies and salmon between two plates and brush on any marinade left from the pan. Sprinkle with sesame for garnish and serve immediately.