Created for Coombs Family Farms by Radi (Executive Chef at a five-star hotel in China)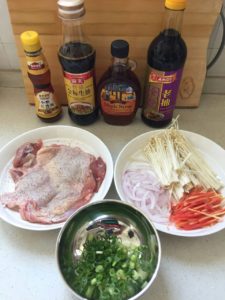 The sauce used for Teriyaki is generally sweet, although it can also be spicy. Grilling meat first and pouring the sauce on afterwards or using sweet sauce as a marinade are other non-traditional methods of cooking teriyaki.
I approached this dish with the inspiration of Michelin ® first issue of a Michelin® star for a street food hawker in Singapore. His specialty is selling simple Soy sauce chicken rice / noodles. But I wanted to incorporate the amazing flavor of Coombs Family Farm Maple Syrup to give it a twist. After going through my recipes, the Teriakyi Chicken seemed to be perfect for that.
Inspired from Singapore street hawker through a French Culinary Star rating company using the finest Coombs Family Farm Maple Syrup to create a classic Japanese inspired dish. Coombs Family Farm Maple Syrup can be used around the world to improve a dish!
---
Ingredients
Teriyaki Sauce
Soy sauce 3 cups
Brown sugar 2 cups
Ginger, chopped 1 tbsp
Garlic, chopped 2 tbsp
Coombs Family Farm Grade A Dark Color, Robust Flavor Maple Syrup 1/3 cup
Sesame oil 1 tsp
Mirin 1/3 cup
Water 1/3 cup
Chicken
8 boneless chicken legs
1 large carrot
Enoki Mushrooms 2 cups
Chinese or Japanese Noodles 34 ounces
Salt and Pepper
Vegetable Oil
Spring onions 3 ounces
---
Preparation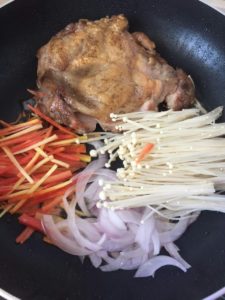 Combine all ingredients for the Teriyaki sauce in a saucepan, bring to a boil, reduce heat and simmer for about 5 minutes. Remove from heat and set aside.
Peel onion and slice it very thin. Peel carrots and cut into thin strips. Wash Enoki Mushrooms and pat dry with a kitchen towel.
Trim and clean spring onions and cut finely and set aside.
Bring in a large pot water to a boil.
Score the chicken legs on the thickest part, pat dry with kitchen towel and season with only a little salt and pepper on both sides.
Heat oil in non stick pan on medium heat and carefully place the chicken leg in the pan with the skin side down. Reduce heat a bit and leave until skin becomes crispy.
Turn around and increase heat for 1 minute and turn down again. Add now the vegetables and mushroom and stir once in a while until becomes fragrant. Add the Teriyaki sauce and let simmer until reduced and chicken is well done.
Meanwhile cook the noodles until tender, drain, place on a deep plate and set aside on a warm place.
Remove the chicken and cut into 1.5cm wide strips and place on top of the noodles. Dress the sauce with the vegetable and mushrooms on top of the chicken and sprinkle with spring onions. Serve immediately.
Tip: Be careful with salting the chicken. The soya sauce is already salty.
Depends how sweet you like it add more or less of Coombs Family Farm Maple Syrup or sugar.
Serves 8