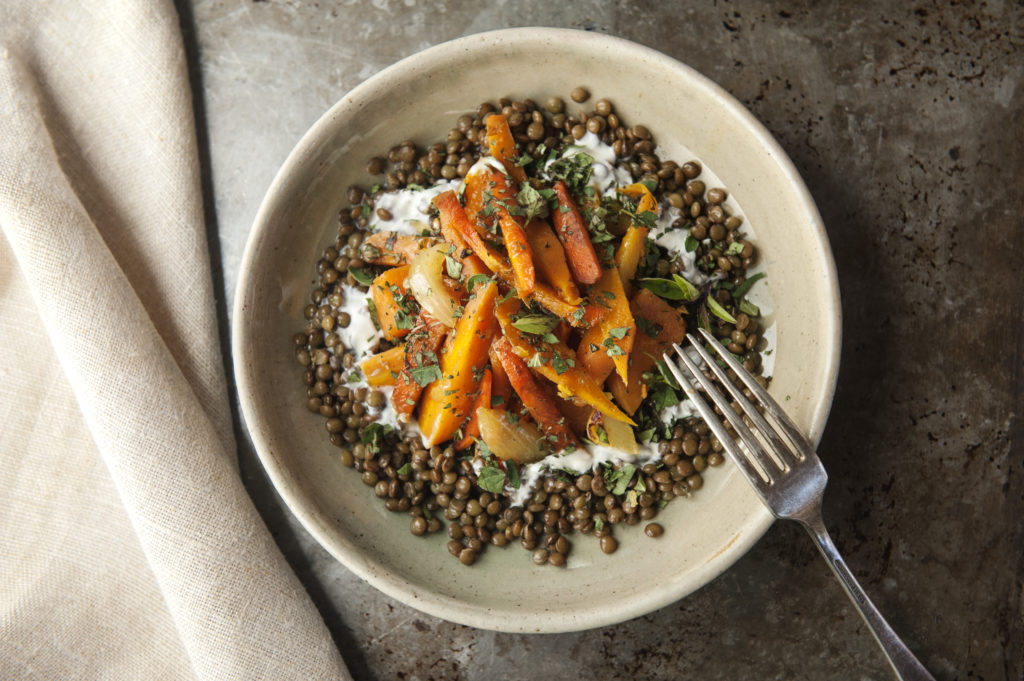 Hot out of the oven, served on a bed of French Lentils, these sweet and spicy carrots and yams look elegant with a cooling touch of yogurt drizzled over it. An easy to prepare and beautiful main dish.
Serves 6-8
Ingredients:
½ cup French Lentils
2 bay leaves
3 cups water
4 cups thinly sliced organic yams, about ¼ inch thick, bite size
3 cups julienne-cut organic carrots
1 cup coarsely chopped organic onions
¼ cup organic maple syrup
3 tablespoons grated organic ginger
2 tablespoons organic ghee or extra virgin coconut oil
1 tablespoon fresh grated organic turmeric
1/2 teaspoon organic cinnamon
1/2 teaspoon sea salt, or to taste
1/2 teaspoon fresh ground black pepper, or to taste
¼ teaspoon organic ground cayenne
1 cup plain organic grass raised yogurt (or your favorite dairy-free yogurt)
¼ cup fresh chopped organic cilantro
Preparation:
Preheat oven to 400 degrees.
Put the yams, carrots, onions, maple syrup, ginger, ghee, turmeric, cinnamon, salt, pepper, and cayenne in a large mixing bowl. Mix together and transfer to a large covered baking dish.
Bake for 30-40 minutes or until vegetables are as tender as you like. Taste and adjust the seasonings, if desired.
While the veggies are baking, cook the French lentils in a generous amount of boiling water with bay leaves. When the lentils are tender, about 20 minutes, drain them and discard the bay leaves. Set the lentils aside while yams and carrots cook.
Serve the Moroccan Vegetables on a bed of lentils. Drizzle with yogurt and garnish with cilantro.
Serve immediately.
________________________________________________________________________________________________