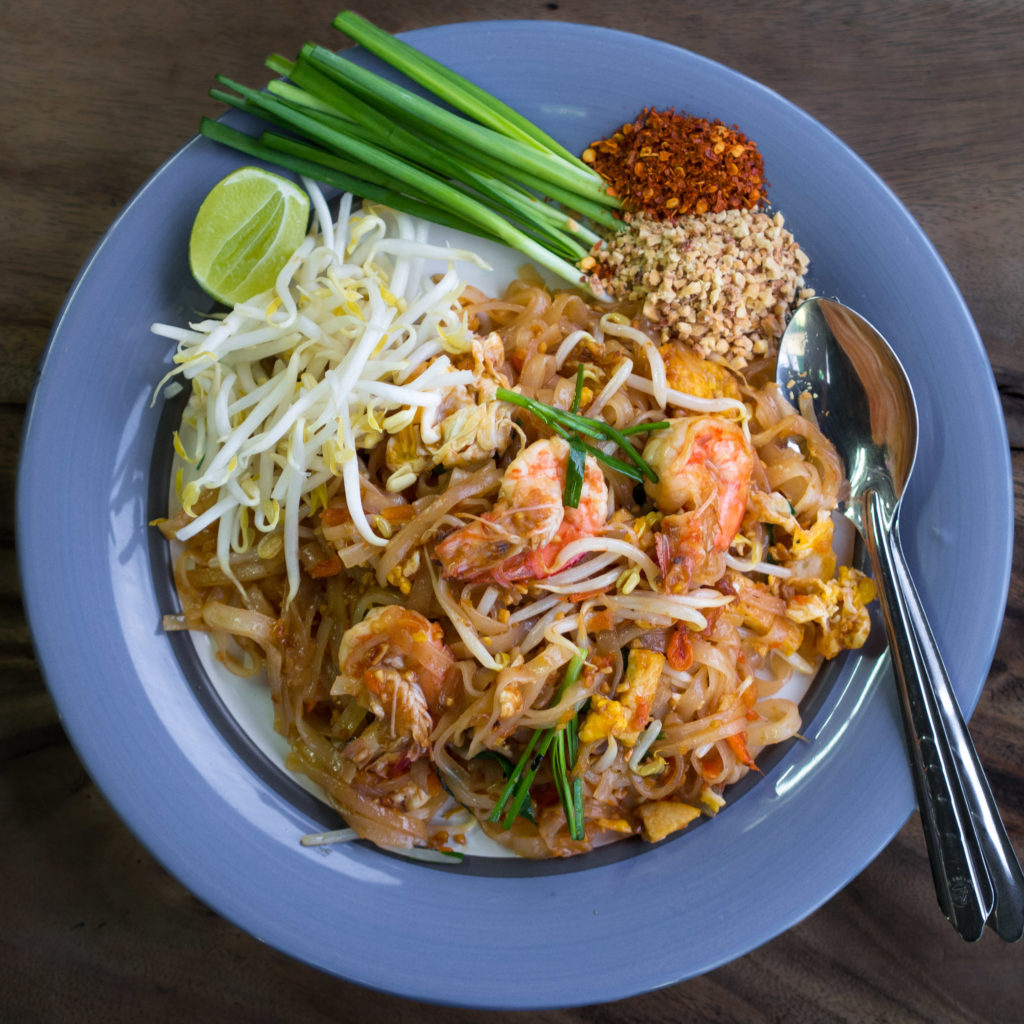 The Summer 2010 issue of Delight gluten free Magazine includes a delicious sounding recipe for Shrimp & Chicken Pad Thai using maple syrup.
Ingredients
4 ounces dried rice stick noodles
1 fluid ounce fish sauce
1 1/2 ounces Coombs Family Farms Grade A Dark Color, Robust Taste Maple Syrup
1 fluid ounce lime juice
Canola oil for frying
6 eggs, whisked with 1 tsp water
1/2 Tbsp Thai Red Curry paste
8 ounces shrimp, peeled, deveined
4 ounces chicken breast, boned, skinned, julienned
5 ounces cabbage, finely shredded
1 carrot, finely shredded
4 fluid ounces chicken stock
4 ounces mung bean sprouts
3 scallions, thinly sliced
2 ounces peanuts (optional)
Cilantro, coarsely chopped for garnish
Lime wedges, for garnish
Preparation
Soak the noodles in warm water for 15-20 minutes or until flexible.  Drain.  In a separate bowl, mix the fish sauce ,maple syrup, and lime juice and set aside.
Heat a wok again and drizzle oil around edges. Add egg and cook until set. Remove from wok and cutting board and julienne.
Heat wok again and add more oil.  Add curry paste and stir fry for a few seconds. Add shrimp and stir fry until pink and cooked through.  Remove shrimp to bowl.  Wipe wok, add new oil, heat, and stir fry chicken until fully cooked. Add chicken to shrimp  bowl.
Heat wok again and add more oil. Stir-fry cabbage and carrots until tender. Add drained noodles and toss and cook until al dente, about 3 minutes.  Add some of the fish sauce/lime juice mixture to wok.  If the mixture seems too dry, add in chicken stock.  The mixture should be a little soupy, but noodles will absorb the liquid as they cook.  Add shrimp and chicken back to the wok with remaining fish sauce mixture and fold in well.
Add egg, bean sprouts, and scallions and toss gently.  Cook until sauce is absorbed and everything is hot.  Taste and adjust seasonings. Turn out Pad Thai on large platter and sprinkle with peanuts and cilantro.