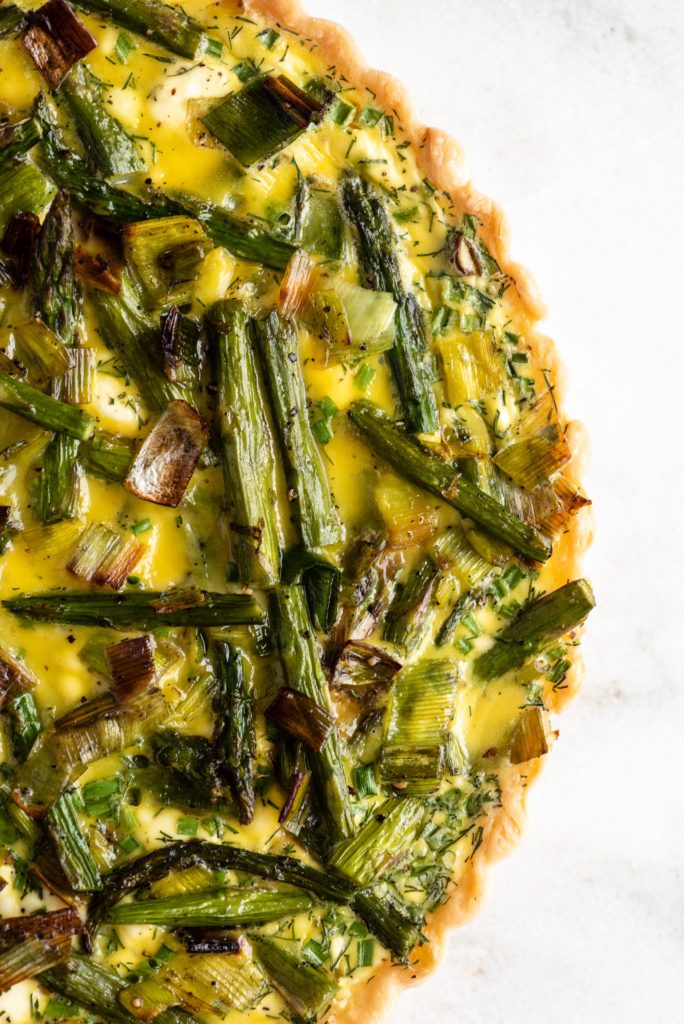 Serves: 6 – 8
Prep Time: 10 minutes
Cook Time: 40 minutes
INGREDIENTS
1 pre-made pie crust
8 oz. asparagus, with tough ends removed
1/2 leek, washed well and sliced thin
1 tablespoon extra-virgin olive oil
3 eggs
4 oz. chevre
1 tablespoon Coombs Maple Stream
1/4 cup whole milk yogurt
2 tablespoons whole milk
1 tablespoon fresh chives, sliced thin
1 tablespoon fresh tarragon, chopped
1 tablespoon fresh dill, chopped
1/4 teaspoon cayenne pepper
salt and pepper
INSTRUCTIONS
Lay out the pie crust in a 9-inch tart pan with 1″ high sides and bake the pie crust according to the directions on the packaging.
After the crust is pre-baked set aside and increase the temperature of the oven to 425 degrees F. Lay the asparagus and leeks on a sheet pan, drizzle with olive oil, and season with salt and pepper. Roast for 7 minutes. Lower the oven temp to 375 degrees F.
Meanwhile, in a large bowl, whisk together the eggs, milk, yogurt, herbs, cayenne and a pinch of salt.
Mix together the goat cheese and maple in a separate bowl.
To assemble the tart, arrange half of the roasted veggies in the cooked tart shell and top with half of the maple chevre.
Pour the egg mixture into the tart shell and then arrange the remaining veggies and chevre on top.
Bake the tart for 25 – 30 minutes or until the filling is completely set. Let cool to room temperature before slicing up to enjoy!