4 cups chopped rhubarb stalks
12 mint sprigs, or spearmint, 8 roughly broken apart
1/3 cup Coombs Family Farms Grade A Dark Color, Robust Taste Maple Syrup (or more to taste)
6 ounces light rum (you can use some Vermont vodka if you really want to keep it local, and you can leave it out for a child-friendly version)
ice
club soda
---
Cook the rhubarb with 2 cups of water on a low simmer until very soft, then either strain to get the liquid (mashing up the rhubarb well to extract the most flavor from it) or blend in a blender. Cool liquid before using.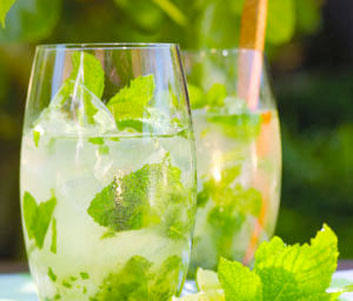 Place ice in beverage shaker then add in the rum or vodka, 8 broken up mint sprigs, half cup of rhubarb liquid and maple syrup. Shake well, taste and adjust with more rhubarb juice or syrup as necessary. Serve over ice in a high ball glass, topped off with a splash of club soda and a sprig of mint. Makes 4 servings.
---
This recipe is from Cheryl Herrick's blog, http://crankycakes.com.