Original Recipe from Eat Yourself Skinny:
Makes: 12 Servings
---
Ingredients
1 cup unbleached all-purpose flour
½ cup whole wheat flour
1 tsp. baking powder
½ tsp. baking soda
1½ tsp. cinnamon
¼ tsp. nutmeg
½ tsp. salt
1 egg
½ cup plain Greek yogurt
¼ cup vegetable oil, melted and cooled
½ cup Coombs Family Farms Grade A Dark Color, Robust Taste Maple Syrup
1 tsp. vanilla
1½ cups grated zucchini, water squeezed out
½ cup chocolate chips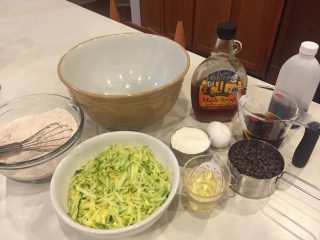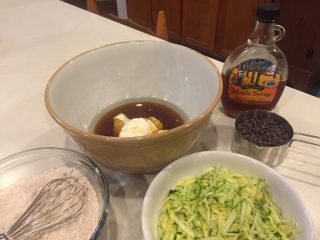 ---
Preparation
Preheat oven to 350 degrees. Prepare a 8″ x 4″ loaf pan with oil or parchment paper.
In a large bowl, whisk together flours, baking powder, baking soda, cinnamon, nutmeg and salt until combined.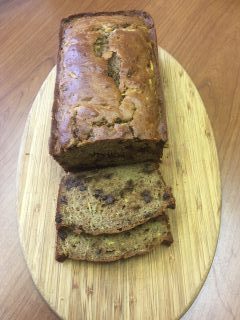 In a medium bowl, mix together egg, yogurt, oil, maple syrup, and vanilla then add grated zucchini and chocolate chips. Fold in flour mixture until all combined and pour mixture into prepared loaf pan.
Bake for 45 min to an hour or until a toothpick inserted in the middle comes out clean.Remove bread from the pan and allow to cool on a wire rack for about 10 minutes.