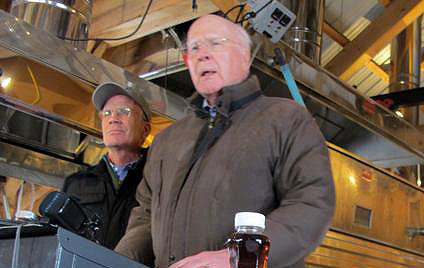 On Tuesday, February 16, the Vermont Maple Sugar Makers' Association (VMSMA), in conjunction with maple syrup producers in Vermont, New York, Maine, Massachusetts, Michigan, Minnesota, Wisconsin, Connecticut, Indiana, as well as the International Maple Syrup Institute and the North American Maple Syrup Council, sent a letter to the US Food and Drug Administration asking the agency to crack down on food producers who label their products as having "maple" in them, even though they contain no maple syrup at all.  According to the letter, such practices deceive consumers and hurt maple syrup producers, because the perception of maple syrup as a premium product is diluted through this practice.

"[Consumers] think there's maple syrup in it, not ground-up tree bark."
— Matt Gordon, the Executive Director of the Vermont Maple Sugar Makers' Association
''This unchecked misbranding has an adverse impact on manufacturers of products containing real maple syrup, as it allows cheaper products not containing premium ingredients to compete with those actually containing maple syrup,'' the letter said. ''Further, it deceives consumers into believing they are purchasing a premium product when, in fact, they have a product of substantially lower quality.''
"[These foods] have a product used to mimic the flavor of maple, through either fenugreek seeds or the ground bark of the mountain maple tree. In those cases it is natural… but it's not what we believe people think they are buying," says Matt Gordon, the executive director of the Vermont Maple Sugar Makers' Association.
"Additionally" says Arnold Coombs, "Maple farmers have a reputation of working hard to produce and market a superior product and these manufacturers are using that reputation while not supporting the farmers and deceiving the consumer."
Here is a link to the VMSMA site and a list of some of the offending products: http://vermontmaple.org/#&panel1-4