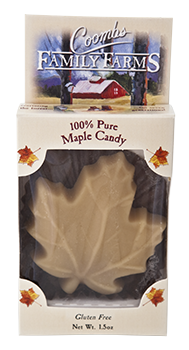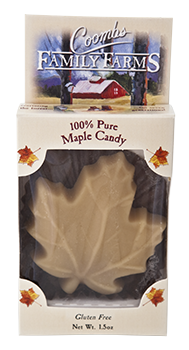 Childhood treats have always been a favorite reminder of our younger years. Whether it's ice cream, cookies, cake, or pie, we all remember our "go-to" sweet tooth favorites. However, today's world is filled with "off-limits" allergen foods and parents are faced with an entirely new set of decisions and challenges making treats anything but easy. So, is there really any such thing as an allergy-free sweet treat? Is there any candy or confection out there that can keep kids from feeling left out when all their buds are enjoying something sweet and sticky? The answer is an age-old favorite that deserves a whole new generation of fans; maple candy made with 100% pure maple syrup.
Sweet maple flavor without allergens or GMOs!
When comparing the candy you typically see at the grocery store checkout counters to maple candy, there is one big difference – and it most likely has nothing to do with allergies. Unlike the huge laundry list of man-made ingredients on traditional candy wrappers (can you even pronounce half of them?!), Coombs Family Farms maple candy has only ONE sweet natural ingredient – pure maple syrup!
The bottom line is that Coombs Family Farms kid-approved-delicious maple candy (based on Arnold Coombs' grandfather's recipe) does not contain allergens (see our Allergen statement) and is:
100% Gluten Free
100% Nut (Peanut AND Tree Nut) Free
100% Dairy Free
100% Egg Free
Going the extra mile in product safety, Coombs Family Farms maple candy is GMO-free! As taken from our company GMO statement: "All of our pure maple syrup is made from 100% pure maple sap extracted from wild, natural maple trees – 40 years old and older. These trees are wild maple trees and not cultivated trees. The trees have not been genetically modified. Since no other ingredients are added to the product, our pure maple syrup and our pure maple sugar does not contain any genetically modified ingredients."
Not only is Coombs maple candy free from allergens and GMOs, it's packed with antioxidants and the delicious maple syrup flavor that your child loves!
How is maple candy made?

The candy-making process begins with Grade A Light Color, Delicate Taste maple syrup. That's because this grade yields the most desirable candies in terms of texture, color, and flavor. Instead of the old-fashioned maple sugar candy, which was harder and more granular, Coombs Family Farms makes a softer, fondant style that gives it its creamy melt-in-your-mouth texture.
First, heated maple syrup is mixed with the maple fondant and poured into molds. After about 35 minutes the mixture is set and dry. Then the candy is removed from the molds and readied for dipping with a crystalline coating of maple syrup. This is a critical step since without it, the candy would get hard and white within a week or two. From the moment the maple candy is removed from the molds, to the time it packaged and shipped, the candy making process has remained a hand-crafted affair over several generations.
Stock up on kid-friendly maple candy today!
Even if your child has an allergy, he or she shouldn't have to do without a sweet treat every now and then. Whether it's for a birthday, trick or treating, or just because, these healthy maple treats will satisfy even the pickiest of eaters!
Coombs Family Farms maple candy products are available online and in many of your favorite natural product and health food stores. For the stores nearest you,
please email us with your hometown and zip code and we'll email a listing right back to you.