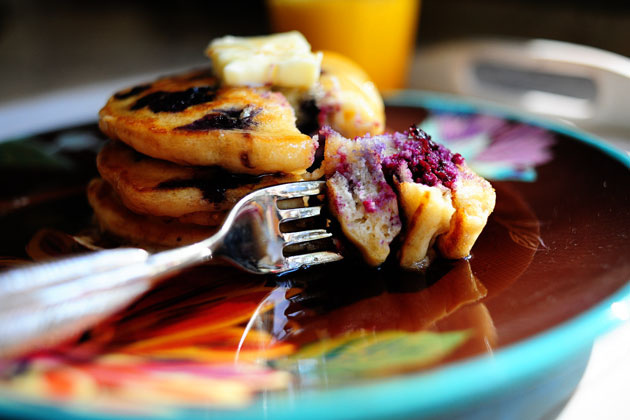 Nothing says "I love you," more than a home cooked meal.  Don't let words like "gourmet" and "fancy" get in your way, just get some good ingredients, recipes you are comfortable with, allow yourself time to do the shopping/prep/cooking, and relax.  What is important is you are making an effort, spending quality time with loved ones, and well it certainly will not hurt if the meal tastes really good.
The Pioneer Woman's recipe for Lemon Blueberry Pancakes is pretty easy, delicious, and sounds like a lot more work than it actually is. Oh, and of course you can drizzle maple syrup all over those pancakes while saying "I love pancakes"…so much fun.  Check out her website for step by step photos.  The great thing about real maple syrup, it looks lovely in the bottle on the table or tray so no need to find a pretty ceramic pourer unless you want to.
If you are not going to have enough time in the morning to make pancakes, or you don't like lemon or blueberries (does anyone not like blueberries?) the Pioneer Woman's make the night before Cinnamon Baked French Toast might be just the right item.
Some fresh cut fruit, bacon or sausages, coffee, and juice are all you need to round out the table. Enjoy!
Photos Ree Drummond.