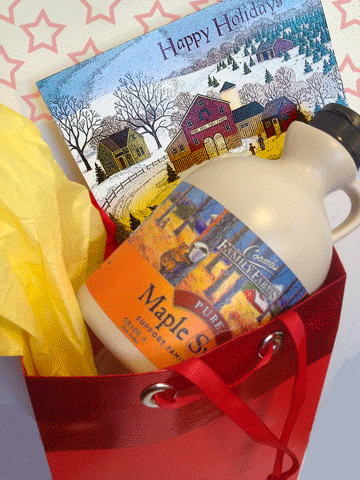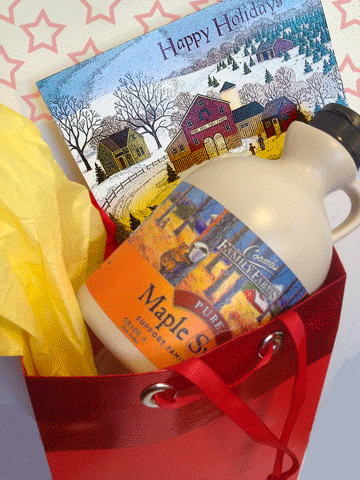 Forget the fruitcake this holiday season – it's time to give your friends and family delicious gifts they'll really enjoy. And what do people love year-round, especially during the holidays? Maple, of course! This mouth-watering ingredient is perfect for all sorts of gifts for everyone on your list. We've provided some gift basket suggestions to start you on your way!
Do you know your maple?
Before you pull together your gift baskets, do you know all the must-have maple companions?
Maple syrup: There is nothing else that comes close to real maple syrup, so don't even think about giving your loved ones that fake imitation stuff! From the most delicate to the most robust of flavors, simply choose the grade that your recipient likes the best. You can also purchase our organic maple syrup variety right online. No matter what flavor or product you choose, our real maple syrup makes every meal (from waffles to glazed salmon) a home run.
Maple sugar: With its rich and subtle flavor, maple sugar is an extremely popular 100% natural alternative sweetener perfect in baked goods, marinades, or in coffee. Since maple sugar is sweeter, you'll only need to use ½ to ¾ cup of Coombs Family Farms Maple Sugar in place of 1-cup cane sugar.
And don't maple candy is a nice gift addition, too! OK, let's get creative with these presents.
Maple gifts for everyone!
Are you ready to get in the festive spirit? Let's start the holiday shopping right now! If you are like most people, your gift list spans across all sorts of ages and personalities. It can be tricky to find just the right gift, so we hope our suggestions list will point you in the right direction!
For the hot chocolate lover:
In this gift basket, include your favorite hot cocoa mix, a perfect mug (with plenty of options to go memorable, from ordering a customized photo mug to painting one at your local pottery studio), and some homemade Maple Marshmallows! These sweet marshmallow pillows are an unforgettable personal touch, made more delicious by maple syrup. Don't forget to put these sweet treats in their own small bag, and attach the recipe. Since these will undoubtedly become a favorite, go ahead and include a small maple syrup in the basket so friends can make their own future marshmallow batches!
For your favorite cookie monster:
One can never have enough cookies, especially during the holidays! We are especially crazy about "spice" recipes during cooler weather, such as gingerbread (or snaps) and pumpkin cookies. Maple sugar is the go-to ingredient to set these cookies apart, so be sure to make that your primary gift in the basket. You can also pair maple sugar with printed recipes, cookie cutters, and plenty of freshly baked cookies!
For the pancake connoisseur:
This can be a fun one. Grab your favorite pancake mix, maple syrup, and collection of special spices (cinnamon gives pancakes an extra kick), and some fresh berries if they are in season. If your pancake-loving friend likes to make these stacks from scratch, include more of the dry ingredients and a recipe for Blueberry Sourdough Pancakes!  Instead of a gift basket, put everything into a new mixing bowl (one with a batter spout is the best) and include a wooden spoon to tie it all together!
For the chef:
This is where you let your gift recipient make the masterpieces. Simply give them a couple key ingredients – real maple syrup and maple sugar. Then find a beautiful recipe book and add a couple or your signature recipes. For example, include something savory like an Asian flank steak and something sweet like Vermont Maple Pecan Pie. If they are someone really special, include a few kitchen gadgets they've had their eye on for the last few months!
Have more unique maple gift package ideas? Let your creativity be your guide!
Your maple gifts begin with Coombs Family Farms!
With Coombs Family Farms maple products in your gift basket, you'll be sure to delight all of your friends and family this holiday season! Head to our online Amazon Store for your favorite maple syrup grades (in various sizes and package options), as well our maple sugar, and maple candy!
Give us a call at 888-266-6271 or email us if we can help make your holidays even brighter this year!