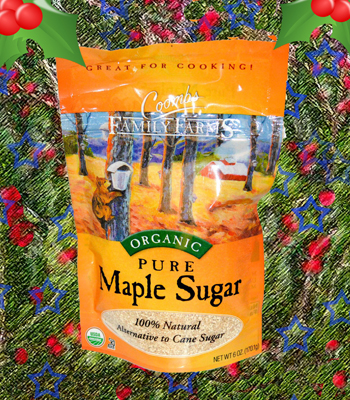 It's so important to fully stock your kitchen as the holiday season approaches. At any given moment, you'll need to whip up some holiday treats. This year, why not mix it up? Instead of using traditional white granulated sugar, look to something that raises the bar a bit. What is 100% natural, richly sweet, and a perfect alternative to other forms of sugar? Maple sugar! If you don't know much about maple sugar, or haven't used it in the kitchen before, we are happy to share this sweet culinary secret with you.
How is maple sugar different from other sugar?
Maple sugar begins with maple syrup. Maple sugar is made when every bit of water in maple syrup is boiled away…and then stirred again and sifted. The result? Dry pure granular maple sugar.
Maple sugar is very much like the typical sugars you have used in the past – only sweeter. Because maple sugar isn't processed with chemicals, this natural sweetener is unbeatable and provides more overall nutritional than most common sweeteners. Maple sugar doesn't have an overpowering maple flavor so the unique subtle richness is simply perfect in baking recipes, as a main ingredient in rubs and marinades, as a little sweetness in coffee or tea, or as a perfect topper for fresh fruit.
If you plan to use maple sugar in your recipes, go right ahead! There is nothing off-limits with maple sugar, and it certainly won't change the consistency of your favorite creations. Please note that because maple sugar is sweeter than regular cane sugar, you need only use 2/3 to 3/4 cup of Coombs Family Farms Organic Maple Sugar in place of 1-cup cane sugar.
Keep your maple sugar stored in a tightly closed container. If it ever becomes a little hard or dry, put a slice of bread on top of the sugar and close the container. The moisture in the bread helps soften the maple sugar.
A very special maple sugar recipe holiday recipe!
In honor of the deliciousness and versatility of maple sugar, we want to share a holiday recipe that you'll enjoy making this season!
Gingerbread Cookies and House Dough 
From: Susan Marcia Fein Chef of Living Arts Kitchen in Austin Texas
Ingredients:
1 lb butter or non-hydrogenated margarine
1 3/4 lb non-hydrogenated shortening
2 lb Coombs Family Farms pure maple sugar
14 oz eggs
2 3/4 lbs molasses
4 tsp baking soda
2 tsp salt
4 tsp ginger
2 tsp cinnamon
Dash of clove
6 lb spelt flour or unbleached white flour
Directions:
Combine butter and shortening in bowl and blend until creamy. Add Coombs Family Farms pure maple sugar and beat until creamy and a little lighter. Add eggs and molasses and continue beating. Sift all the dry ingredients and add to the butter mixture until it's well incorporated. The dough should be soft, yet firm. If it's too soft, add a bit more flour. Remember, you can always add more flour but you cannot take the flour out so add slowly.
Refrigerate the dough for an hour before rolling out. Roll the dough in small batches to desired thickness, cut out the shape you wish, and bake on a parchment covered cookie sheet for 15-18 minutes at 350-375 F. (Or until it turns golden at the edges and puffy in the center). Decorate with icing or just eat as is. This recipe is also excellent for gingerbread houses! Bake until quite firm.
This is just one holiday recipe made delectable by maple. The possibilities for using maple sugar in your holiday treats are endless. What are your favorite holiday maple sugar recipes? We'd love to see them!
Coombs Family Farms makes holiday recipes delicious!
The holidays instantly become more special with Coombs Family Farms maple products. Head to our online Amazon Store for your favorite maple syrup grades (in various sizes and package options), as well our maple sugar, and maple candy! Give us a call at 888-266-6271 or email us if we can help make your holidays a little tastier this year!