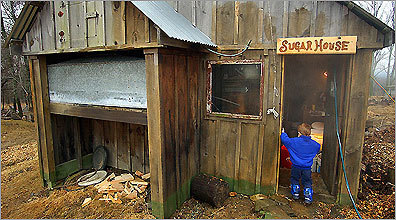 We have started tapping!  There is so much snow so a lot of people have been having to wear snowshoes, but we are getting there. The sun is out, the temperatures are up and spirits are high as the conditions continue to improve. Experiencing sugaring season in New England is almost a rite of passage for children. Several states hold Maple Weekends when maple syrup producers open their doors, hold fun events, and of course sell syrup.  Following is information on New Hampshire and Vermont. More information on Maple Open House Weekends in other states can be found online.
New Hampshire Maple Weekend
During the third weekend every March (March 19, 2011 to March 20, 2011), over 50 sugar houses across New Hampshire open their doors to visitors. Take the opportunity to tour maple orchards and sugar houses and learn how maple syrup is made. Taste free samples of maple products and fill up on pancake breakfasts. You can also gather sap with horses or oxen, take a horse-drawn hay ride, watch a sap gathering contest or tour barnyards to see common and exotic animals. For locations, hours, and other information: 603-225-3757 or visit www.nhmapleproducers.com.
Vermont Maple Weekend
The Tenth Annual Vermont Maple Open House Weekend will be held at sugarhouses throughout Vermont, March 19 and 20, 2011. The Open House Weekend is the public celebration of the maple syrup season in Vermont and an opportunity for the public to visit one or more "sugarhouses" throughout the state to learn about Vermont's first agricultural crop of the year. Activities during this free event will be different at each sugarhouse but will include the opportunity to watch maple syrup being made (weather permitting) and to often sample syrup and other maple products. For more information visit http://www.vermontmaple.org/open-house-weekend.php.
Traveling with children and want to make a weekend out of it?  What fun!  This site put together some useful information for trips to Connecticut, New York State, Vermont, and the rest of New England.  The Boston Globe also put together a maple shack map and profiled a few sugar houses.
We hope to see you March 19-20 at Bascom Family Farms in Alstead, New Hampshire!!
Photo Boston.com.