June 17, 2015
In 2015, spring came late. On our farm the snow was deeper than usual, with four to five feet of powder, which made trudging through the woods unusually difficult even on snowshoes. The harsh, cold winter drifted through March and into April, creating a late start to the maple season. We started boiling later, and until the last 10 days or so were afraid that the season wasn't going to turn out very well. Mother Nature was kind, however, and we produced a record crop of 360,690 lbs. from over 82,000 taps.
The Northeast region was up 7 percent on average. Part of that is attributable to a 4 percent increase in the number of trees tapped. Our expectation is that there will be an increase of 7-9% in the number of tapped trees for 2016. That's about a million more taps. This will help the industry keep pace with the growth of the market.
The US numbers below are based on government reports. Canadian numbers are estimates.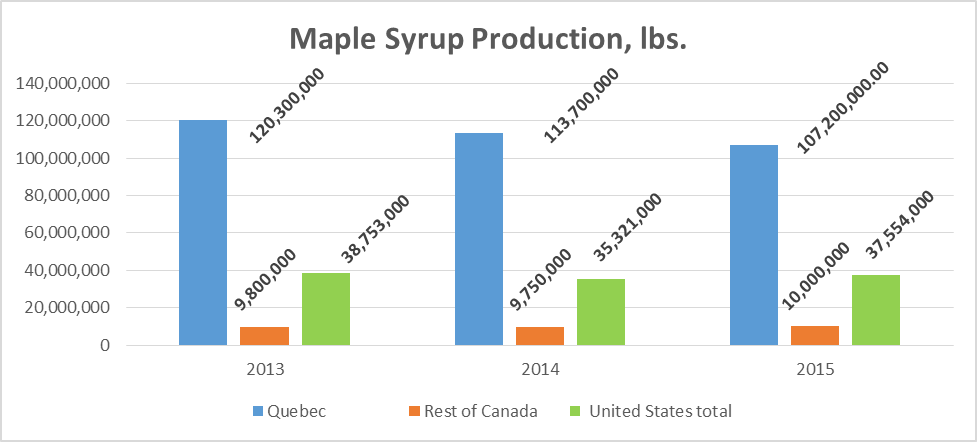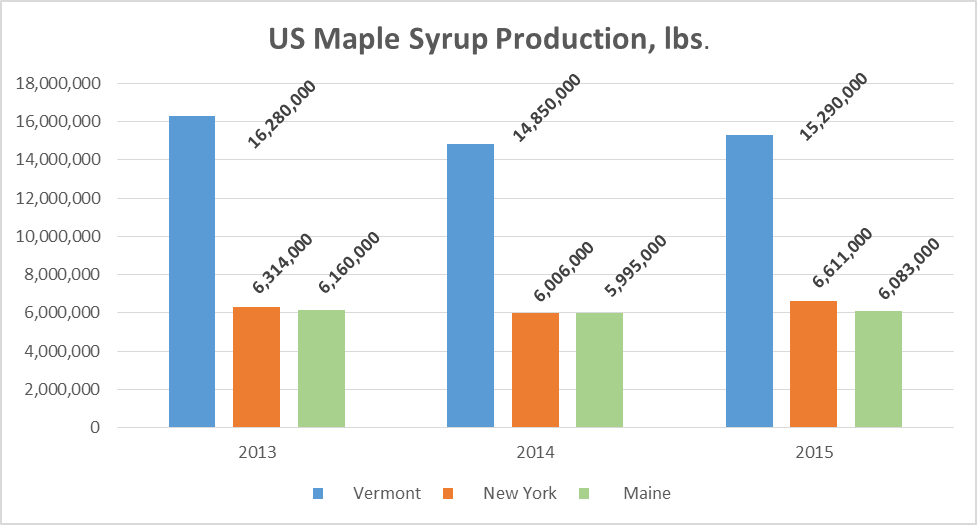 The strong US dollar gave us the expectation of falling prices, and we do see some decrease in the price for conventional syrup. However, the market for organic syrup is growing faster, putting upward pressure on prices, though currently, they are stable.
Production in Quebec was a robust 107.2 million pounds, down almost 6 percent yet still the fourth best crop on record. Their weather patterns matched ours here in VT and NH, with freezing nights into late April and in some places May. A friend of mine in Northern VT produced his last drop of syrup on May 8th.
Canadian carryover from 2014 was about 62,000,000 lbs., yet half of that is of a quality that you would not want on your pancakes.
I continue to be amazed and excited by the growth of the maple industry. At both the farm level and the consumer level, volumes are growing. Grocery stores are carrying a broader selection of SKU's, and manufacturers are using maple in more products than ever.
Please feel free to contact me with any questions.
Regards,
Arnold Coombs