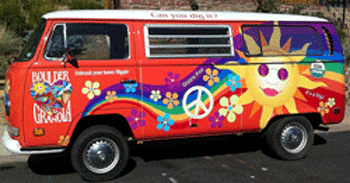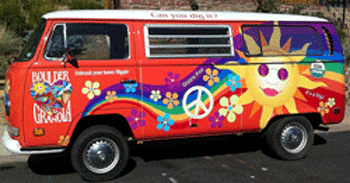 Jody Nagel's business story begins in 1969, in the "summer of granola." Her mother Samantha (formerly known as Florence before a 1960s-inspired name change) whipped up her first batch of granola. Over time, the batches evolved with new ingredients and new techniques, raising the bar of deliciousness each and every time. Many years later, she gave the 45-year old family recipe to Jody. Jody soon started creating her own batches, relishing in the delight of her creations and the praise from her friends and family. While many people may have stopped there, Jody kept on, not knowing that the granola was about to change her life.
Having grown up on Long Island and living in New York City and Connecticut, Jody's East Coast roots were well established. She earned her MBA in finance and worked in commercial real estate in the Big Apple. She was also "supermom," raising her three kids. It was this latter role that planted the seeds of change. That, and a certain crunchy scene she witnessed one sunny afternoon in Boulder, Colorado that sealed the deal.
"I saw fathers, wearing Birkenstocks, pushing strollers at 3 p.m. in the afternoon," recalls Jody. It was all the proof she needed for a lifestyle change, and they made the move out west. It was here, amongst this unique tribe of people who made granola-crunching healthy lifestyles a top priority, that Jody decided she was ready to bring a new baby into the world… Boulder Granola.
Shining star ingredients
Jody launched Boulder Granola in December 2010 with all four of her current-day 100% organic cereals:
Original:  With its roots dating back to the crunchy summer of granola, this combination of nuts, seeds, and oats "is the one-and-only Boulder Granola".
Gluten Free: This was the first certified gluten free granola, and it's one of the only ones to use organic certified gluten-free oats. Jody uses the same family recipe to create an equally delicious taste. Because there may be a potential link between gluten and lactose intolerance, the granola is also dairy-free. The certified gluten free oats are grown in fields not contaminated with gluten grains, and processed on equipment used for gluten-free grain.
Cranberry: Made from their "original granola combined with flavor-bursting organic cranberries," this antioxidant-packed granola will "wake up your mojo any time of the day!"
Chocolate Chip: Inspired by her son (and co-founder) Julian's sweet tooth, this chocolate is melted into clumps, resulting in decadent chocolate granola clusters "of pure bliss that will melt into your consciousness."
While these unique granolas all have a different spin, the heart of the recipe is the same across all formulations. Boulder Granola is all about pure and natural ingredients that are completely organic. "For me, it was all or nothing," explains Jody about going organic. "I went all in."
In addition to being organic, Boulder Granola stays as local as possible, starting with fresh local oats and local seeds. They also rely on golden flax, raw almonds, and raw cranberries that they chop themselves. Boulder Granola is an avid supporter of sustainable organic farming practices and farmers who refuse to use chemical pesticides or fertilizers, GMOs, or other toxins.
It's not just the organic ingredients that make Boulder Granola a standout product in a competitive market. It has the lowest sugar content on shelves today. What makes it so naturally sweet? 100% pure Grade B organic Vermont maple syrup (provided by our wholesale partner Bascom Family Farms). Jody says that, last but certainly not least, maple syrup is actually the final ingredient – the grand finale — that goes into the mix. The result is a groovy blend of oats, nuts, seeds, and pure maple bliss.
Healthy, delicious, and decadent – for all your snack cravings!
With its organic and healthy ingredients, Boulder Granola is full of protein, fiber, vitamins, minerals and antioxidants, providing a slow-release energy food for breakfast or snacks. Want some delectable inspiration? Here are some Boulder Granola-inspired ideas:
Breakfast blend: 2 tablespoons of granola, bananas, milk, and bran flakes (Jody's go-to daily breakfast!)
A perfect topper: Whether it's for ice cream, yogurt, or milk, this versatile granola makes these all more delicious.
Dessert: Peach crisp, gluten-free chocolate chip cookies, or French toast are all made better with this granola. In fact, a local restaurant has made its gluten-free pancakes a signature dish thanks to Boulder Granola!
What's next for Boulder Granola?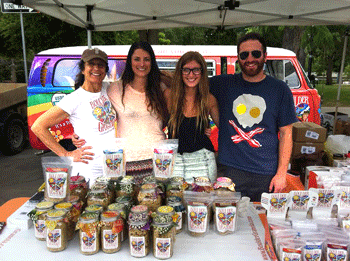 Right now, Jody's team consists of her co-founder and son Julian, a full time operations manager, three full-time packagers, two full-time bakers, part-time demonstration ambassadors, and three managers who manage nine different farmers markets.
Firmly positioned at the helm, Jody plans to continue to grow and expand organically, ideally becoming a national granola company with possible expansion into Canada. They are also working on their non-GMO verification.
If you're ready to buy these delicious Boulder Granola products or merchandise, you can purchase them online or head to your favorite grocery store in Colorado, Utah, New Mexico, Kansas, Idaho, California, or New York.
For the latest information and product details, please visit/like them on Facebook, or follow them on Twitter!