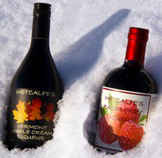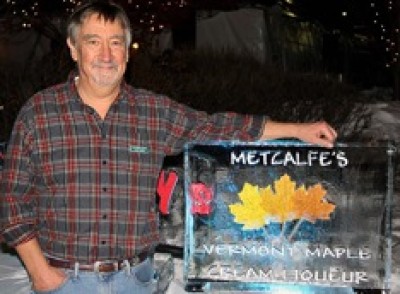 If you've ever wished for a beverage that tastes like pure maple syrup fresh from the farm, we've got some good news for you!  These days, consumers are asking for maple as a healthy and natural alternative sweetener in almost everything from juices to yogurt and cereal to bacon. Now, maple is finding its way into beer, liqueurs and an assortment of alcohol beverages including flavored bourbons, whiskey, and even moonshine. Several well-known brands have risen to the maple-flavored challenge along with a few newcomers. One such David taking on alcohol industry Goliaths is family-run Vermont Distillers headed up by Ed Metcalfe.
The man behind the label
"I was a teacher in Marlboro, NH, in the early '80s," says Ed Metcalfe. "When I got an offer from a friend to run a liquor store in Rhode Island for about twice what I was making as a teacher."
After his stint at the liquor store, he became a sales rep for Rhode Island's first winery, a position that planted the seed for Ed to become a vintner himself. He did just that in 1985, creating and owning North River Winery; Vermont's very first winery. His apple wine with maple syrup and gold-medal-winning raspberry apple wine were his best sellers.
Fast-forward to 2008 when Ed Metcalfe won first place in the Brattleboro Development Credit Corporation's annual business plan competition. He received $10,000 to jump-start Vermont Distillers in Marlboro, Vermont on Route 9 next to the Hogback Mountain Scenic Overlook. (If you stop at the Hogback Mountain Gift Shop, ask for a small taste of the maple liqueur.) Today, working side-by-side with his sons, Gus and Dominic, Ed Metcalf's Vermont Distillers produces an exceptionally tasty line of maple-flavored liqueurs.
To put it simply, Metcalfe's Vermont Maple Cream Liqueur is simply delicious. Its fans say that its real maple syrup flavor is the difference maker. Why? Because pure maple syrup provides a depth and complexity of taste that is unquestionably better than chemically altered artificial "maple flavor" additives other companies might use. To get the "right maple flavor, Ed Metcalfe's "secret sauce" is 100% pure Vermont Grade B maple syrup.  to give it that rich and bold flavor. The darker syrup gives his Vermont Maple Cream Liqueur the robust, smooth maple flavor that people want.
Metcalfe's Vermont Maple Cream Liqueur has received high marks and "Publisher's Picks" praise from leading industry publications.
"From its subtle maple aroma to its billowy soft entry, this liqueur tippy-toes on the tongue," wrote the Spirit Journal, along with awarding 91 points to the Maple Cream Liqueur. "It soon lets go, dousing the mouth as if it were a pancake: a milky wash of maple syrup and cream with a hint of perky 34-proof spirit."
Vermont Distillers also makes an equally amazing beverage from fresh raspberries; Metcalfe's Raspberry Liqueur.  Mmmmmm!!!!
Thirst-quenching Vermont Maple Cream Liqueur recipes
Ed says this unique liqueur is best enjoyed chilled and served straight up or on the rocks. It's also the perfect addition in mudslides, coffee, hot cocoa or served over ice cream. To get the ball rolling, we've included a couple of Ed's favorite recipes from the Vermont Distillers Facebook page:
Maple White Russian
2 oz. Metcalfe's Vermont Maple Cream Liqueur
1 oz. Vodka
1 oz. coffee liqueur
4 oz. cream or milk
Shake and serve on ice in a rocks glass!
Metcalfe's Maple Mudslide
2 oz Metcalfe's Vermont Maple Cream Liqueur
0.5 oz Vodka
0.5 Coffee liqueur
Crushed Ice
Blend ingredients and swirl with chocolate syrup or a shaved chocolate garnish.
What is your signature recipe?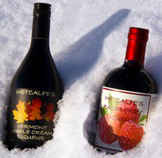 How do you like to enjoy your Maple Cream Liqueur? If you have your own "must-have" recipe for a drink or dessert using Metcalfe's Vermont Maple Cream Liqueur, share it with the world on their Facebook page – we would love to see it!
Vermont Distillers products are sold in most liquor stores in Vermont, with additional availability in Alabama, Illinois, Maine, Minnesota, Mississippi, Nevada, North Dakota, Oregon, Tennessee, Texas, and Wisconsin. For more information (and you are at least 21 years old), visit the Vermont Distillers website or check out their Facebook page for the latest news, offerings, and recipes.
Plans for future products include some exciting possibilities like Limoncello, blueberry cordial, and vodka – so stay tuned – and stay thirsty!