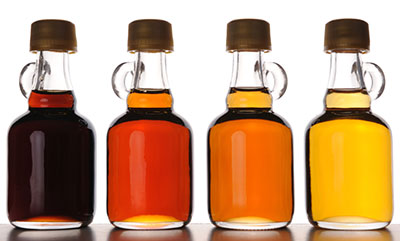 Buying your favorite maple syrup products is about to get easier. This is good news if you love the taste of pure maple syrup, but have been puzzled about the various grades in the past. In attempts to alleviate consumer confusion the International Maple Syrup Institute (IMSI) has proposed maple syrup grade changes that will establish an international grading standard. Just recently approved by the Vermont Legislature the new maple syrup grades are expected to appear on your grocer's shelves in 2014 in Vermont and 2015 elsewhere.
"Today, consumers are used to descriptors on food packages – Salsa is hot, medium or mild – and we need to make it easy for consumers and retailers to buy pure maple. The new grading terminology will do that," says Arnold Coombs. Our Maple Syrup Grades page clearly outlines the proposed new maple grades, with references to the comparable flavors of the original grades. Under this IMSI proposal, there will be two primary maple syrup grades based on color and flavor profiles.
These simplified grades make it easy to discover your favorite maple flavor, ranging from the most delicate to the most robust. Grading maple syrup is built on the measurement of translucence, (which is how much light can pass through the syrup), density and flavor. Each maple syrup grade falls within a range of translucence. The lighter syrups are the most translucent, and the darker syrups are the least translucent. The maple flavor will also intensify as the color deepens.
Before the transition is fully complete, you may come across the original grades and new grades from the same maple producer side by side on the shelf. The new labels will make the flavor profiles very clear and you'll be able to identify the ideal maple syrup grades for your pancakes, favorite meals, and recipes.
New Maple Grades are Perfect Kitchen Staples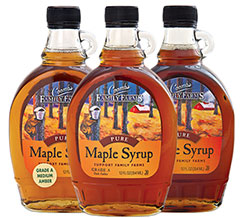 If you'd like to keep current on the latest information around the maple syrup grade changes, check our maple blog regularly for updates. If you have any specific questions on these new maple grades, give us a call at 888-266-6271 or email us at info@maplesource.com.
Coombs Family Farms maple syrup products are available in natural and certified organic. With seven generations of experience under our belts, you'll always find superior flavor and quality in every bottle of Coombs Family Farms 100% pure maple syrup. Pure maple syrup is a healthy, delicious, and versatile sweetener that will make all your favorite meals even better. Try some today!